Employment and Skills Board
Our Employment and Skills Academies are designed to ensure all Derby College Group Students are prepared to make a smooth transition from education to employment and meet the needs of employers.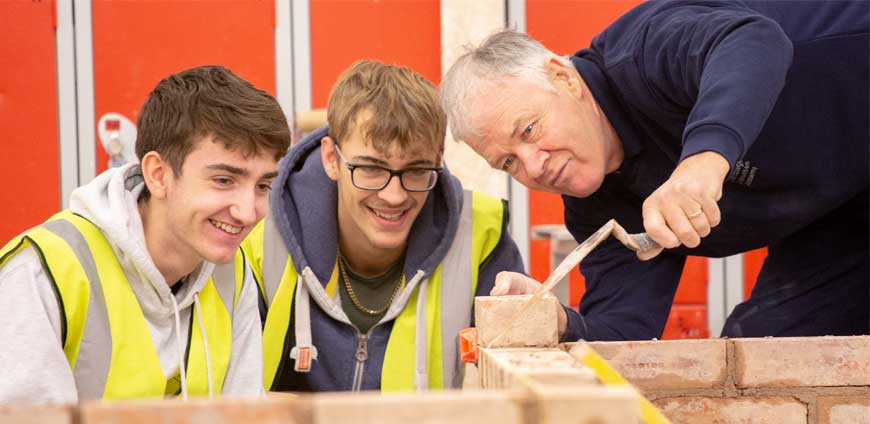 As a local, regional or national employer you could become part of this and help shape your future workforce and search for young talented individuals.
Students will follow a journey of learning at Derby College Group and take part in an extra programme of employer engagement activities. This unique combination of learning and employer engagement ensures that our students gain the skills, attitudes and knowledge employers need from young people in the workplace.
The Employment and Skills Academies activities broaden the opportunities for our students and employers. They help our young people synthesise knowledge into practice whilst they are achieving their qualifications at College, this therefore helps them attain higher grades. They prepare young people for the world of work and ensure our employers help design and shape our students learning experience, so that they leave the College with the right skills and attitudes for their chosen career.
The Employment and Skills Academies are made up of:
 Advisory Board –
Giving you the chance to influence education decisions and strategy. Take part in networking opportunities with like-minded business leaders. Raise your organisations social responsibility in the community. Develops individual teamwork and leadership skills. Offers an alternative method of recruitment which will reduce cost and enhance your talent pool.
Mentoring –
A mentor will develop their coaching and mentoring skills that contribute to being a better leader. Helps develop potential future employees.
Specialist speakers –
Talks can help students understand what your business does and raise the awareness of the industry. Individuals can develop their presentation skills and how to interact with young people.
Specialist industry visits –
Helps raise awareness within your organisation of its corporate social responsibility, it also gives the workforce the opportunity to talk to students and show off their skills. Conducting visits reduces the demand on your time.
Projects –
Students can help with research projects that will help move your business forward. Individuals can develop their leadership skills whilst facilitating a group of students.
Work experience –
An opportunity to shape your future workforce and prepare young people for the next phase of their lives.
Strategic Employment and Skills Academies Board –
Have the chance to influence our Executive leadership to ensure employability is a core strand across the College at all levels of learning.
Enterprise Academy –
Sit on our Employer Advice Board, to give critical business advice and feedback to our budding business leaders and to shape a young students future.
we know your organization does so many

good things

but showing this locally and regionally

without spending lots of money on press

releases and advertising

can be difficult by associating yourself

with dcg

we can promote the fantastic work you do

with us whilst boosting your reputation

there are many ways you can get involved

for example

becoming a college governor designing

and developing our curriculum

or preparing your future workforce

sponsoring key events such as dcg's peak

awards or employer awards

will raise your profile with local

organizations students

and community members business inquiries

at dot derbyhyphencollege.ac dot uk

one three three two three eight seven

four two one


Products We Offer