Salwa Khan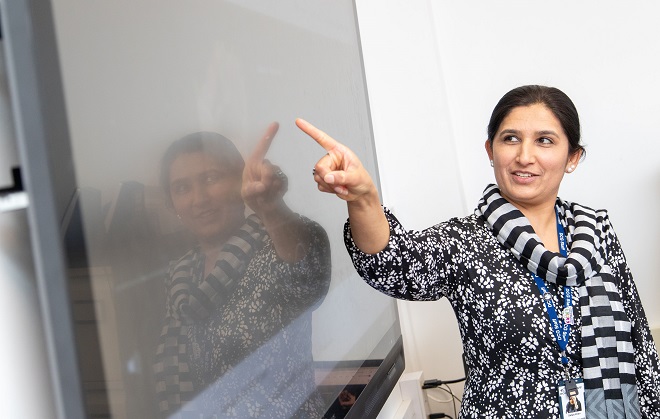 Study Type: Adult and Community
Study Location: Joseph Wright Centre
Subject Studied: ESOL (English for Speakers of Other Languages)

Derby College ESOL teacher Salwa Khan knows what it's like to arrive in the UK when English is not your first language.
Salwa, who moved to Derby from Pakistan 16 year ago, could read and write in English but didn't feel confident enough to speak it.
A former primary school teacher who also taught Arabic, she enrolled on the ESOL (English for Speakers of Other Languages) course at the former Mackworth Derby College Group site and was selected for entry level 3.
She said: "I enjoyed studying and after gaining English Level 2 and functional skills maths and IT, I went on to take GCSEs in English and Maths at DCG's Joseph Wright Centre, as well as doing additional courses in office skills and computer studies.
"After that I took the teaching assistant level 3 apprenticeship qualification and am currently completing my higher-level teaching assistant level 4 (HLTA) at the Roundhouse."
Now a mum of three, Salwa has since become an ESOL teacher at Derby College, teaching English to adults from overseas.
She added: "My students come from all over the world  including Pakistan, Iran, Iraq, Libya, Morocco and Poland – everywhere really.
"My job isn't just about teaching English – it's also about teaching people how to communicate more effectively and be understood, such as how to ask someone politely to repeat something when English isn't your first language.
"I'm both a student and a teacher at Derby College and am very happy in my job. I was shy when I first came to England but taking the ESOL course has helped my confidence so much as well as my language, social interaction and communication skills.
"I think Derby College is the best place to work and to further your education. I'm not sure what qualifications to take when I complete level 4 but I might well go on to do the PGCE as I want to qualify as a teacher in the UK."
I'm both a student and a teacher at Derby College and am very happy in my job.