Advanced Technical Diploma in Animal Management – Level 3
If you're passionate about pursuing a career working with animals – from house pets to farm livestock, zoo animals to wildlife – you've come to the right place. DCG delivers the in-depth knowledge, skills training and practical experience that will help you into a wide range of animal-related jobs.
Course Summary
Subject Area:
Animal Care
School Leaver - Vocational/Technical
Location:
Broomfield Hall
Full Time or Part Time:
FT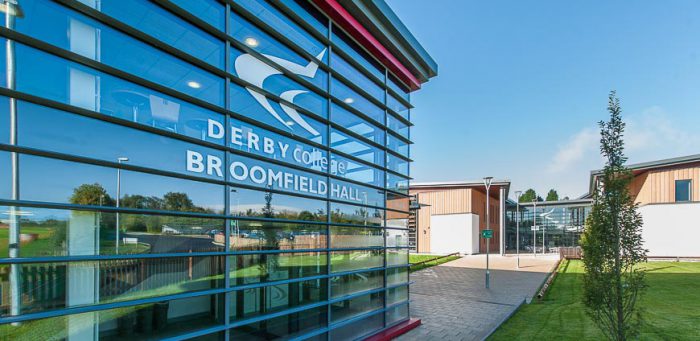 Apply now at: https://www.derby-college.ac.uk/course/advanced-technical-diploma-in-animal-management-level-3
Course Information for Students
Who is this course for?
This course provides in-depth knowledge, skills and work experience to help you gain employment within the animal management industry or to progress to higher education or apprenticeship programmes.
You will be taught in both a practical and theoretical environment relating to the industry of animal management. This course is ideal for someone looking to improve upon their basic animal skills and knowledge and to open up employment opportunities within the animal management sector. Additionally, you will have the opportunity to participate in a range of enrichment activities.
Entry Requirements
You need to be highly motivated and to demonstrate a keen interest in the animal management industry. A place on the course is subject to interview and you will have to evidence:
A minimum of four GCSEs at grades C/4 or above, including English, Maths and Science
OR
An Intermediate Diploma (Level 2) in a related subject to a Merit standard.
Please take into consideration that this course requires an element of physical activity: you will work hands-on with a range of animal species (small and large) and you will need to complete work experience as part of your course.
To progress to Year 2 of this course, you will be required to obtain a Pass grade or above during the first year. At the end of Year 1 you will choose a specialist pathway of study for your second year. This will be in discussion with your personal tutor, taking into consideration your career goals and aspirations.
What will you learn?
In Year 1 the course will cover:
Animal feeding and nutrition
Animal biology
Animal training
Work-related experience
Animal behaviour and communications
Pet allied services
Animal welfare and breeding
Pet store management
Health and safety
Animal health and husbandry
You will also be expected to continue with English and Maths qualifications if you have progressed from a subject-relevant Level 2 course but are yet to achieve a GCSE grade 4 in both subjects. (If you are 19+, this is not applicable.)
In Year 2 of the programme, we are offering Animal, Zoo and Science pathways.
How will you learn?
This course will be delivered on-site at Broomfield Hall. At level 3, most of the work undertaken will be in a classroom setting. Practical sessions based on our animal unit will also be timetabled.
There is an element of work experience involved in the course: students will need to be prepared to approach local animal-based businesses to support them in the completion of their qualification.
There may be an element of remote learning and students will be expected to carry out extra reading and complete homework during their study days.
What will you need to bring with you?
You will be required to supply your own:
Steel toe-capped boots or wellingtons
Derby College Group bottle green laboratory coat or tunic for practicals (which will be available to purchase at enrolment)
Derby College Group polo and/or sweatshirt (information will be provided at enrolment on where to buy these from)
Writing materials, to include a lever arch file, dividers and a memory stick
Entrance fees to various establishments: as part of the course, you will visit several animal collections over the year, so allow around £50 for entrance fees.
During practical sessions, long hair is to be tied back and no nail varnish, false nails, false eyelashes or jewellery should be worn.
How will you be assessed?
This course is continually assessed throughout the year. The various assessment methods include written assignments, practical and written exams.
Where next?
This course can put you on the path to career roles such as veterinary nurse or zoo keeper, as well as supervisory roles in rescue centres, pet stores, kennels, catteries and dog grooming salons.

Derby College Group offers a range of one-day, weekend and evening courses relating to Animal Care, as well as a wide range of other land-based topics – please see the Derby College Group Part-time Prospectus for a full list and details.
Who do you contact for more information?
For more information contact Derby College Group on 0800 0280289 or enquiries@derby-college.ac.uk
Course Information for Employers
Information for Employers
If you are an employer and would like to know more about the apprenticeships and professional training we deliver or how you can get involved in co-creating and co-delivering the curriculum, please contact us via email on businessenquiries@derby-college.ac.uk, call us on 01332 387 421 or visit our employer pages here.
Career Information
This course could lead to one of these careers...
£0
£0
More Careers Information at: https://www.derby-college.ac.uk/career-pathways
DCG Success Stories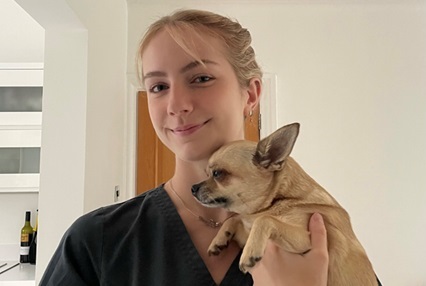 Jorjia Jepson
DCG Animal care course helped build confidence for vet nurse Jorjia
The Animal Management Science course at Derby College helped me push myself and achieve a grade I never thought I was capable of, as well as developing a love of science that I never knew I had.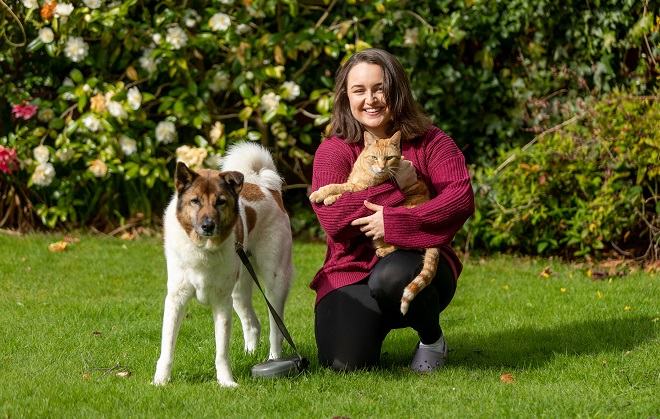 Kate Howell
Broomfield Hall course prepares Kate well for practical veterinary study
Unlike other colleges, there are animals on site – and such a wide range of them too. Broomfield Hall even has exotic animals. I was interested in learning about them.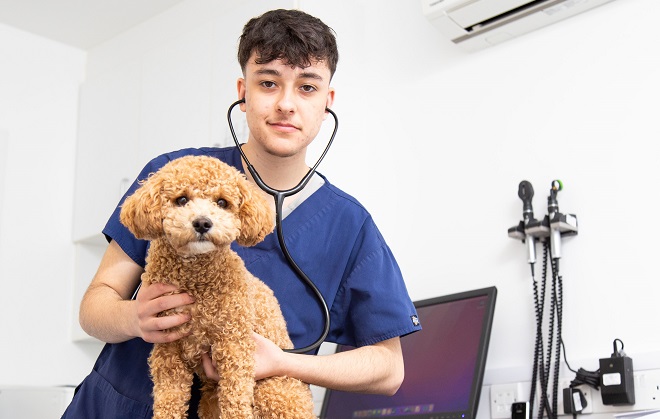 Cole Fisher
Trainee vet nurse Cole loves his job at small animal hospital
One of my tutors, Karen, used to work as a vet nurse and she gave me good career advice. I'd never had 1-2-1s before. Karen helped me, 100%. She made me believe I could do it. Get Started...
Use our online application form to apply for this course.
Course Information Last Updated On: September 28, 2023 10:52 am