Sue Arthur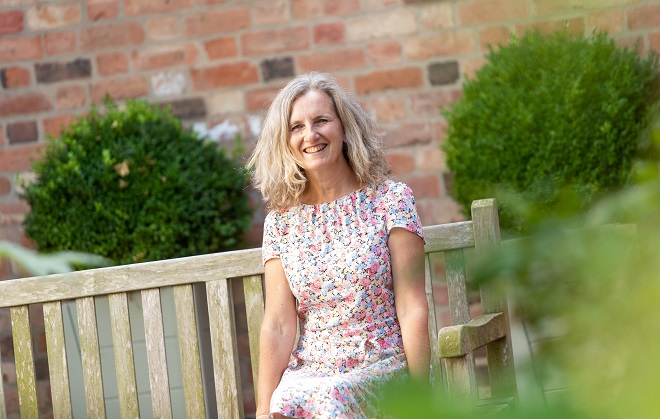 Study Type: Adult and Community
Study Location: Broomfield Hall
Subject Studied: Horticulture

Former Broomfield  student Sue wins gold at Gardeners' World Live
Award winning gardener and former Derby College horticulture student Sue Arthur is so pleased she chose to pursue a life-long love of gardening.
Sue previously worked as a musician and teacher, but, in her 50s, decided to  enrol on the level 2 RHS diploma course at Broomfield Hall. It was a good decision; she enjoyed her time there so much that she continued on to DCG's level 3 practical certificate in horticulture.
Sue now runs her own gardening business, Ornatum Garden Design and Restoration near Burton-upon-Trent, and recently won a gold medal in the BBC Gardeners' World 'Beautiful Borders' category.
She said: "I discovered everything at Derby College – plantmanship through to working at a drawing board, taking surveys, welding and learning how to render walls.
"I loved being outside close to nature and learning alongside likeminded people. I can honestly say that my two years spent  at Broomfield were two of the happiest of my life."
Last year her year group won a silver medal for their show garden entry at the Gardeners' World Live show at the NEC. They created the Lilian Prime Garden' to promote the Derby Multiple Sclerosis Society's change to the Lilian Prime Centre.
Sue added: "Our brilliant lecturer Mike Baldwin gave us the opportunity to enter that competition. He was fantastic – he threw so much information at us but in his own relaxed style. It's thanks to him that I had the confidence to enter the Borders' category in this year's Gardeners' World awards."
Sue, who drew on memories of her childhood garden to create 'Wild Life,' her competition entry, now works with another gardener providing gardening and landscaping services. And, through her connections with Derby College she has picked up a fascinating project at  a Georgian Manor house in Ashbourne.
Sue added: "The owners wanted help tackling the overgrown gardens and approached Derby College to see if any of the horticultural students might be interested. I've taken it on with my business partner and it's been fantastic. The owners have allowed us to plant as well as clear the area and have come to us for our planting suggestions."
I can honestly say that my two years spent  at Broomfield were two of the happiest of my life.