Lauren Taylor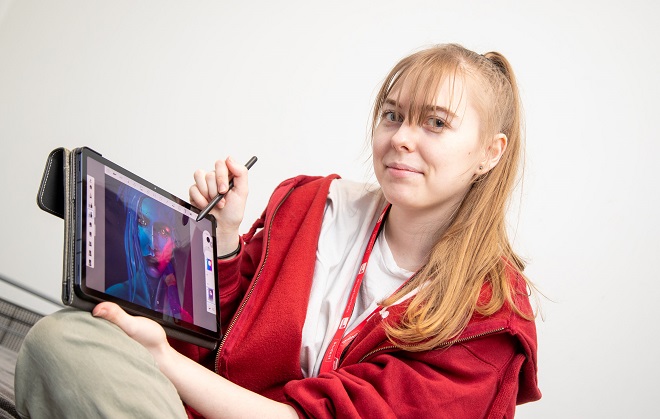 Study Type: School Leaver Vocational
Study Location: Joseph Wright Centre
Subject Studied: Games Design and Esports

Artistic talent leads to games art degree course for former DCG student Lauren 
Former Derby College student Lauren Taylor always enjoyed art but didn't know when she left first school where her artistic talents might lead.
She initially came to Derby College to do A levels, but switched to games development.
Lauren, now 20, is in the second year of a games art degree at Staffordshire University after completing the level 3 course at the Joseph Wright Centre.
Lauren said: "I liked everything about the games development course, especially the games art side.
"Our lecturers were good too. They helped me, not just with the course but with some personal issues I was having at that time.
"I hadn't been sure what I wanted to do but they helped me choose my career direction.
Lauren specialises in character art, designing creatures and characters for computer games, as part of her second-year degree course
She also helps to run a game studio with fellow DCG game development students William Hardy and Jordan Thorpe.
Lauren added: "I'm glad I took the level three games development course.
"It shows that it pays to research a topic and think outside of the box sometimes.
"Before I went on the course, I hadn't thought about how I and here could use my arts.
"As an artist, I love how 3D art allows me to fully bring my imagination to life, whether that be for film or games."
Lauren's games art degree includes studying 3D modelling, digital sculpting and observational drawing.
She added: "Studying games art doesn't just limit you to working within the games industry.
"The course provides the knowledge and skills required to progress onto other careers related to other areas of the media industry and architecture.
"The 3D modelling skills we learn can also be applied within engineering."
I liked everything about the games development course, especially the games art side.