Jo Lenham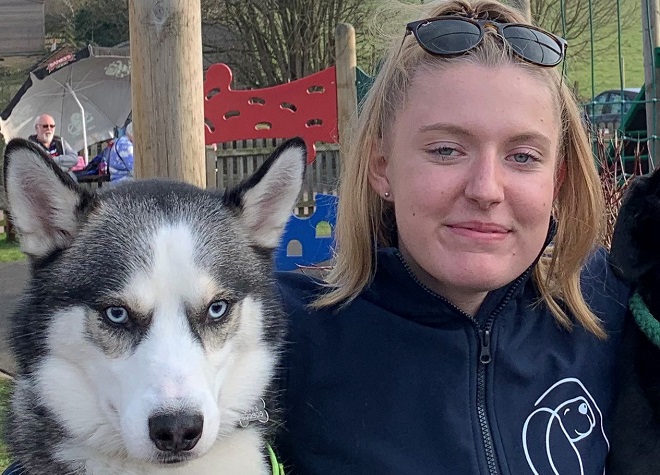 Study Type: School Leaver Vocational
Study Location: Broomfield Hall
Subject Studied: Animal Care

Former DCG animal care student Jo expands dog walking business
Having the animal care qualifications to offer pet owners a reliable, caring and professional dog walking service has paid dividends for former Broomfield Hall student Jo Lenham.
Jo, who is 23, launched her own business PawMates three years ago and is now so busy that she is having to take on more people to help her.
She said: "So many people got pets during lockdown and I'm constantly getting inquiries from puppy owners who were previously working from home but now have to go back into the office a couple of days a week."
Jo, who took levels 2 and 3 in Animal Care at DCG, moved to Stockport not long after leaving college and initially started walking dogs to earn extra money while working part-time at kennels.
She said: "Some people think there's nothing much to dog walking or cat sitting but they're wrong. Owners are trusting you with their much-loved pet and they want someone professional who knows what they're doing and is fully insured.
"As well as my animal care diplomas, I'm qualified in canine first aid. I'd definitely recommend my Animal Care courses at Derby College. Since moving to Stockport I've been back into college to talk to students about how to set up in business in the animal care sector."
PawMates, which has great reviews on Facebook, doesn't need to advertise. Jo gets all her clients via recommendations, both online and by word of mouth.
She walks a wide variety of dogs including chihuahuas through to German Shepherds and also looks after cats – sometimes house sitting.
She added: "Pet owners like to feel reassured. Many of my clients like to know how their pets are getting on while they're away, so I make sure I send them regular photos and updates."
I'd definitely recommend my Animal Care courses at Derby College.