DCG's DigiCreate Industry Week involved hundreds of young people studying a wide range of subjects from Art and Media to Esports and Games Development.
Visits and projects included Art students working with the Woodland Trust, Music students writing and performing their own compositions with Sinfonia Viva orchestra, Performing Arts students working with Derby Theatre, Media students visiting the film studio facilities at the University of Derby and Games Development students taking part in a game jam.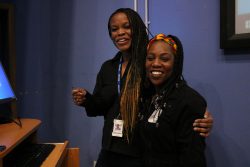 Speakers included top female DJ Figa; Wade Smith, CEO of DoughNotts, who talked about business start-up and branding; as well as film maker Chris Bevan, director Michelle Jones and graphic designer, Ike Muotoh.
DCG's Digital Academy Manager Vanessa Simpson explained: "Industry Week is designed to inspire and engage young people as they explore their future higher education and career options.
"It is the opportunity for students to cross collaborate such as Esports and Digital Media students working together to create content and for others to attend taster sessions to help them progress onto their next level of study.
"The chance to meet a wide range of professionals who kindly give their time and share their knowledge of what life is really like in their industry is a fantastic opportunity for all the students.
"Most importantly it has been chance for young people to have fun, whilst developing transferable skills such as team work, confidence building, presentation skills and engaging with professionals."