Chester Zoo is home to more than 27,000 animals made up from nearly 600 different species, many of which are endangered in the wild and is the UK's most visited wildlife charity.
Keen to inspire more young people to take up a career in conservation, the zoo has teamed up with DCG to firstly manage the recruitment of 14 apprentices and then provide full accreditation for the scheme, including all formal training elements and assessment.
More than 500 people applied for the different roles on offer – zookeeper, aquarist, horticulturalist and animal and plant logistics – and DCG's dedicated apprenticeship recruitment team handled the whole recruitment process.
As the apprentices start their new roles, they will be supported throughout the two-year programme by the DCG assessor team who will visit on-site.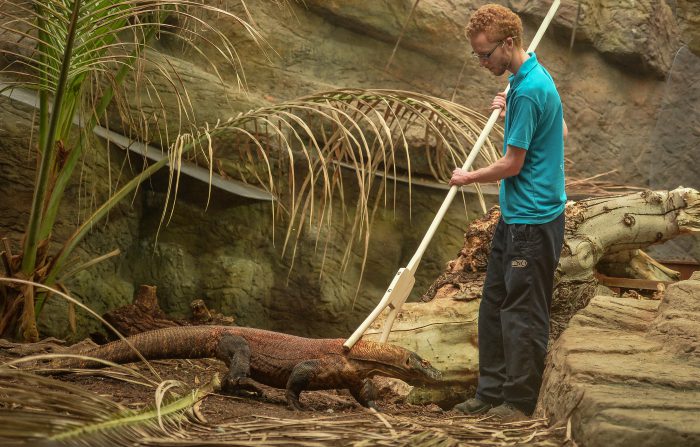 Chester Zoo's Director of People and Culture, Zoe McEvoy​, explained: "We're incredibly proud to offer these new apprenticeship programmes, which aim to provide people in our local communities with a paid career route into conservation.
"This is a really exciting opportunity for 14 apprentices to become part of our charitable effort to prevent extinction.
"We spoke to a number of providers and it was clear from the outset that DCG was the right fit for our zoo.
"We wanted to work with a provider who shared our passion, ethos and goals.
"This is a true partnership. Working with the DCG apprenticeship recruitment team has been a pleasure and the support they provided was seamless.
"We knew there would be a lot of interest and we would not have been able to handle the volume of applications internally.
"We were kept informed of the progress of the recruitment process throughout and there was a clear and agreed timeline which ensured that everything stayed on track.
"Furthermore, DGC's recruitment and assessor teams joined the zoo team at the assessment day – talking to all the applicants openly and honestly to manage expectations about the apprenticeship programme.
"The training programme and level of support that the DCG assessor team proposed was closely aligned with our people commitments and we look forward to working with them to develop the talent, knowledge and passions amongst our first apprentice cohort.
"Furthermore, each and every one of our apprentices will be trained and mentored by specialist and experienced staff from across the zoo, ensuring they're ready and equipped with the skills needed to work in a modern conservation zoo.
"They'll also work alongside our new Conservation Training Academy, which will enable and inspire 5,000 conservationists to deliver positive change for wildlife over the next 10 years.
"Moving forwards, we will be exploring similar apprenticeship programmes within other teams at the zoo."
DCG Curriculum Manager Stacey Higgs added: "We have widespread experience of further education, higher education and apprenticeship routes into animal management and are delighted to be working with Chester Zoo to help recruit and to train the apprentices under this innovative programme.
"This is a wonderful opportunity for young people and adults alike to earn while they learn and to get the first foot on the ladder in this exciting and growing sector with a first class wildlife charity."
.