Level 2 Diploma in Horse Care
This course provides knowledge, skills and work experience to help you gain employment within the equine industry or to progress to the next level in your career.
Course Summary
School Leaver - Vocational/Technical
Location:
Broomfield Hall
Full Time or Part Time:
FT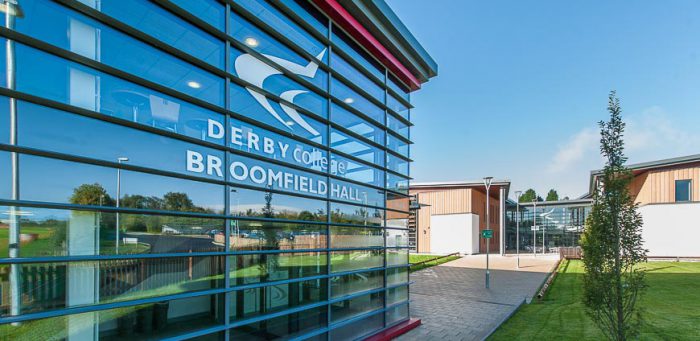 Apply now at: https://www.derby-college.ac.uk/course/level-2-diploma-in-horse-care
Course Information for Students
Who is this course for?
This course provides knowledge, skills and work experience to help you gain employment within the equine industry or to progress to the next level in your career.

You will be taught in both a practical and theoretical environment relating to the industry of riding and caring for horses. This course is ideal for someone looking to improve upon their basic equine skills and knowledge and to open up employment opportunities within the equine sector. There are both riding and non-riding pathways.
Additionally, you will have the opportunity to participate in a range of enrichment through training, clinics, workshops and trips.
Entry Requirements
You need to be highly motivated and demonstrate a keen interest in the equine industry. Offers of a place on the course are dependent on your:
Experience/work experience in the industry
Career progression
References
Attainment of any equine-related qualifications
Achievement of a minimum of two GCSEs at grade D/3 in English and Science
Level 1 progression
For the riding pathway, the minimum riding requirement is being able to walk, trot and canter confidently and in balance. Riders will be assessed at the start of the course and those not achieving this standard will be offered the non-riding option. To ensure the welfare of our horses, we operate a personal weight restriction of no more than 13 stone and applicants must provide their own PPE to current safety standards.
What will you learn?
The course will cover a selection of the following modules:
Work Experience
Feeding and Watering
Routine Stable Duties
Horse Handling
Tack and Clothing
Health and Welfare
Grooming, Trimming and Plaiting
Biology
Riding Horses
Lunging
You will also be expected to continue with English and Maths qualifications if you do not have a GCSE grade 4 in both. (If you are 19+, this is not applicable.)
How will you learn?
This course will be delivered on-site.
What will you need to bring with you?
You will be required to supply your own:
Correctly fitted and up to current safety standard riding hat
Correctly fitted and up to current safety standard riding footwear
Correctly fitted and up to current safety standard body protector
Derby College Group uniform
Entrance fees to various establishments
Writing materials
You will have the option to take part in additional qualifications with Derby College Group at your own expense such as trips, training, first aid, safeguarding and online courses.
Long hair is to be tied back and no nail varnish, jewellery, false eyelashes or false nails are to be worn.
How will you be assessed?
The course is continuously assessed using a range of methods both practical and theoretical: verbal discussions, demonstrations, written reports and presentations. You will be required to build a portfolio of evidence of your practical skills, knowledge and understanding. Each assessment will be internally marked and your completed portfolio will be awarded a Pass, Merit, Distinction or Distinction* grade.
Where next?
You will be able to enter the industry by working on a yard, within a stud, or perhaps in a business such as a store or feed merchant, tack shop or another organisation allied to the equine industry. As you will have gained industry-level skills and depth of knowledge over a wide range of units, you could progress within work to become a:
Discipline specific groom
Apprentice
Work rider
Travelling groom
You may also wish to become self-employed and undertake roles such as freelance grooming or riding.
With many transferable skills embedded throughout the course, it is possible for you to switch vocation easily.
Additionally, you can progress within further education on either a higher Level 2 Diploma or a Level 3 Technical Qualification.
Derby College Group offers a range of one-day, weekend and evening Equine courses – please see the Derby College Group Equestrian website at www.derby-college.co.uk/equestrian-centre
We also offer courses covering a wide range of other land-based topics – please see the Derby College Group Part-time Prospectus for a full list and details.
Who do you contact for more information?
For more information contact Derby College on 0800 0280289 or enquiries@derby-college.ac.uk
Course Information for Employers
Information for Employers
If you are an employer and would like to know more about the apprenticeships and professional training we deliver or how you can get involved in co-creating and co-delivering curriculum, please contact us via email on businessenquiries@derby-college.ac.uk, call us on 01332 387 421 or visit our employer pages here.
Career Information
This course could lead to one of these careers...
Animal Care Services Occupations n.e.c.
£16267
More Careers Information at: https://www.derby-college.ac.uk/career-pathways
DCG Success Stories
Discover how our students have achieved success. Their hard work and dedication to learning has enabled them to succeed in rewarding careers or progress onto higher education. We encourage progress and aspirational outcomes by guiding people onto learning pathways that lead to positive destinations. Our students have gone on to achieve great things since leaving the College. We would like to share some of their inspiring success stories with you. Get Started...
Use our online application form to apply for this course.
Course Information Last Updated On: October 18, 2021 1:44 pm