GCSE Plus
The GCSE Plus programme is a stepping stone programme that will enable you to make a successful transition to Level Three study. 
Course Summary
School Leaver - Academic
Location:
Joseph Wright Centre
Full Time or Part Time:
FT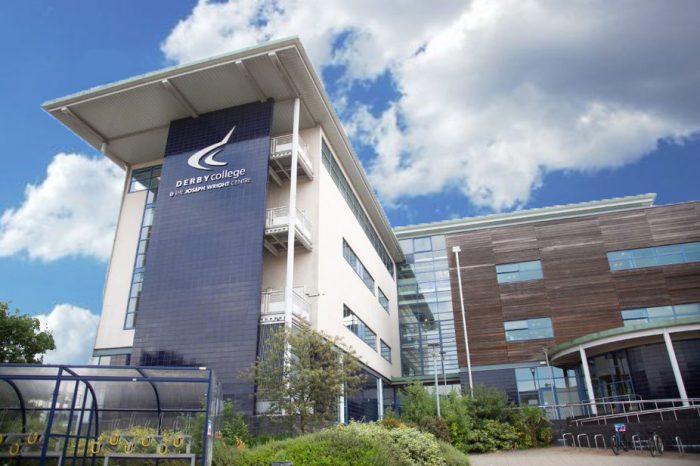 Apply now at: https://www.derby-college.ac.uk/course/gcse-plus
Course Information for Students
Who is this course for?
The GCSE Plus programme is a stepping stone programme that will enable you to make a successful transition to Level Three study. It will help you realise your full potential by giving you the skills, confidence and grades necessary to make a successful next step.
English Language and Mathematics are mandatory elements of the programme if you have not already gained those all important grades of a 4. Alongside these subjects, students can pick from a range of other GCSE subjects. Bespoke study programmes will range from 3 to 5 GCSEs, along with a tutorial programme. The core programme is taught as face-to-face provision.
In 2021-22 we will also offer a unique programme that will be delivered remotely via Microsoft Teams. This package will include English Language, Mathematics and English Literature along with a tutorial programme. Students interested in this programme will need to express their interest during interview. This programme is intended for students where this provision would better suit their needs. Students wishing to progress via this programme to A-levels are invited to discuss this aspiration with the team.
Entry Requirements
The GCSE Plus programme attracts students from a diverse range of backgrounds. The typical grade profile for a student taking this route is predominantly 3s and 4s.
The programme is invaluable for students looking to improve their grade profile for progression to Level Three courses, including A-levels. The programme is equally relevant to students with few or no qualifications who may have been home-schooled, who may have studied overseas or who may have missed school or exams for valid reasons.
Students who join us without prior qualifications will need to complete a screening test in English Language and Mathematics prior to an interview.
What will you learn?
Subject choices are tailored to you.
The Pick and Mix GCSE Package includes:
English Language (mandatory unless you have a prior grade of 4 or above)
Mathematics (mandatory unless you have a prior grade of 4 or above)
Combined Science (Trilogy)
English Literature
Business Studies
History
Media (coursework element)
How will you learn?
This course will be delivered on-site.
What will you need to bring with you?
There may be some additional costs in some courses such as English Literature where you will be required to have your own copies of the texts.
Other opportunities for enrichment or trips during the year may incur a cost.
If you are studying remotely you will need access to your digital devices.
How will you be assessed?
Throughout both courses, you will be assessed on a regular basis within class and through set homework. You will have formal assessments throughout the year and your final grades will be assessed through a final examination. Media also has a coursework element which will form part of your overall grade, along with your examination.
Where next?
The GCSE Plus programme can allow you to progress to a number of Level Three courses at the College.
In order to progress to A-levels, you will need to achieve at least a grade 5 in English Language, 4 in Maths and 4 in three other subjects.
For Level Three vocational courses, you will need to refer to the specific entry requirements for each area.
Who do you contact for more information?
For more information contact Derby College on 0800 0280289 or enquiries@derby-college.ac.uk
Course Information for Employers
Information for Employers
If you are an employer and would like to know more about the apprenticeships and professional training we deliver or how you can get involved in co-creating and co-delivering curriculum, please contact us via email on businessenquiries@derby-college.ac.uk, call us on 01332 387 421 or visit our employer pages here.
Career Information
Sorry - no lmi data
More Careers Information at: https://www.derby-college.ac.uk/career-pathways
DCG Success Stories
Discover how our students have achieved success. Their hard work and dedication to learning has enabled them to succeed in rewarding careers or progress onto higher education. We encourage progress and aspirational outcomes by guiding people onto learning pathways that lead to positive destinations. Our students have gone on to achieve great things since leaving the College. We would like to share some of their inspiring success stories with you. Get Started...
Use our online application form to apply for this course.
Course Information Last Updated On: November 12, 2021 9:47 am