Suhayl Bhikha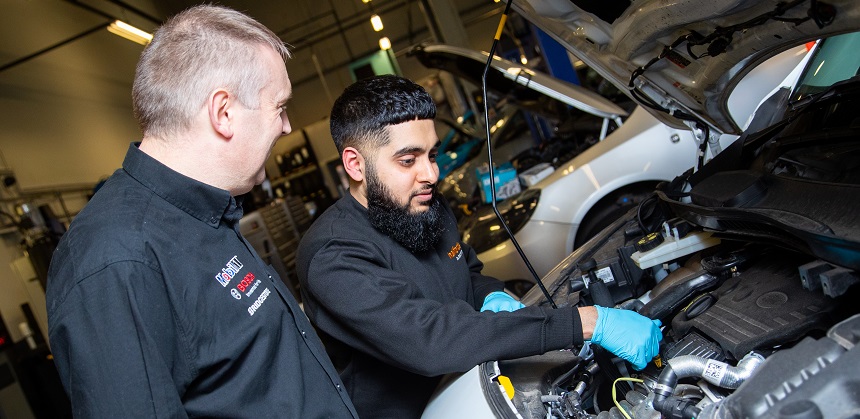 Study Type: Apprenticeship
Study Location: Johnson Building
Subject Studied: Motor Vehicle

Halfords and Derby College offer career switch from shopfront to Autocentre floor
The UK's leading retailer of motoring products and services Halfords has teamed up with Derby College so that a talented employee can switch from the retail shop front to the Autocentre shop floor.
The move comes as part of a rolling company scheme which gives Halfords' retail colleagues a chance to change direction and retrain as vehicle mechanics if they want a change in career path.
Suhayl Bhikha, 27, decided to apply to become a trainee mechanic and Derby College Group apprentice when he saw an internal email offering a potential new career.
He was highly praised in his role as a customer service adviser at Halfords' Wyvern retail site but decided he wanted a new challenge.
Now he is six months into a two-year apprenticeship at the Halfords' Autocentre based in Wyvern next door to his old job and working towards his Level 2 Autocare qualification at Derby College.
He goes into the Johnson Building one day a week for workshop and classroom studies and regularly receives visits and phone calls at work from the college for appraisals and assessments.
Throughout, he is mentored and trained on the job by experienced colleagues at Halfords.
Dave Nichols, who looks after the day to day running of the Halfords Autocentres' apprentice programme, started as an apprentice himself 25 years ago in Essex.
The company has 313 Autocentres and more than 120 apprentices on its books.
Dave said: "We chose Derby College for the qualification it provides, and its expertise and facilities.
We had done some work with the college in the past, for part-time employment, and we were impressed by the quality of people who came through.
The travelling distance is also good for our apprentices – we work with a lot of colleges across the UK and we want to give the best offer we possibly can for them.
"We've done a lot of work with our retail arm to give people opportunities to move around in the business and to give the right people the opportunity to move onto an apprenticeship.
A lot of people may have been doing really well in retail but the next step was to go into a management role.
Some of our colleagues don't want to do that, it's not the right pathway for them. This is a very real alternative for progression within the business."
Suhayl said he was learning something new every time he went into college.
He said: "It's good – very interesting. The company and college work well together. There's a different challenge every day, whereas next door it was pretty much the same thing all the time.
I applied for the apprenticeship because Halfords look after you and I wanted a career. I'll get my qualification and decide from there what's next for me."
Dave said that Halfords offers its apprentices the opportunity to take Level 3 under its own internal training scheme and this allows them to become accredited and then to become an MOT Tester.
The company is due to take on a new cohort of apprentices in September, with the possibility of a further role coming up at its Derby West Autocentre.
It's good – very interesting. The company and college work well together.