Shareen Akhtar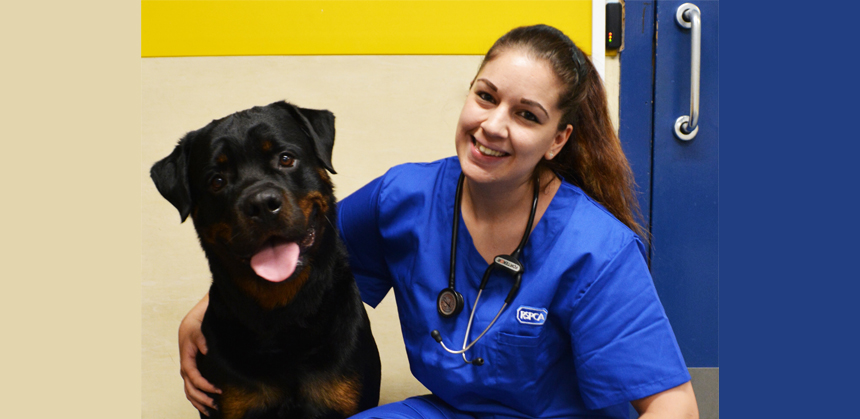 Study Type: School Leaver Academic
Study Location: Joseph Wright Centre
Subject Studied: A Levels

RSPCA vet "100 per cent" owes job she loves to Derby
Veterinary surgeon Dr Shareen Akhtar is convinced that Derby College is 100 per cent the reason she is now in a job she absolutely loves.
Shareen, who is 27 and grew up in Mackworth, took her A levels at the College's Joseph Wright Centre.
However, despite being a bright student, outside work pressures meant she didn't get the grades she needed for veterinary school the first time round.
Shareen wanted to be a vet because of her Rottweiler Kiza. She was poorly bred by a back yard breeder and had lots of health issues as a result.
Shareen felt helpless not having the knowledge or skill set to help her, and that's where her path to becoming a vet started.
Once she had the required A level grades, Shareen got offers from two veterinary schools and accepted a place at Nottingham Vet School. She now works as a vet at the RSPCA Greater Manchester Hospital.
Shareen, who still meets up with her former tutors when she's in Derby, also served as Student Union president in 2010/11.
As the first person in her family to go on to further education, she wanted to make the most of College life.
She said: "I'm so grateful to my tutors for all their support and the vital role they played on my journey to becoming a vet.
"I now live in Manchester with my four year old male Rottweiler Riken (pictured) who is my best friend."
Going to Derby College for my A levels is 100 per cent the reason why I'm now a qualified vet doing a job I absolutely love. I was quite good at chemistry and biology but I found physics difficult. Fortunately I had a very supportive physics tutor who found ways to make the subject easier for me to learn. My grades shot up in my repeated year to three As.