Sean Bell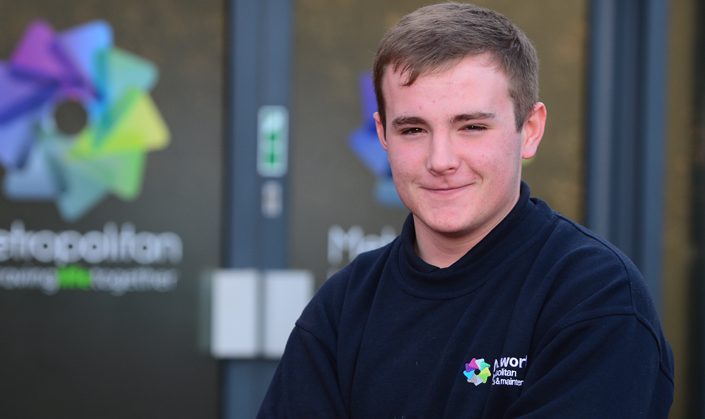 Study Type: Apprenticeship
Study Location: Hudson Building
Subject Studied: Construction - Carpentry

Joinery apprentice Sean says College and work are a perfect fit
Apprentice joiner Sean Bell says Derby College and his employer Metworks are providing a brilliant environment in which to learn his trade.
Seventeen-year-old Sean said his parents and sister went to university and, from what they said, he decided it "didn't seem right to me."
Instead, he looked for an apprenticeship. As he was "good at making things" and most of his exams were in design, he decided on joinery as a career.
Sean looked on the Government website and found that Derby-based social properties maintenance business Metworks was recruiting. He was taken on last September and has not looked back.
He is working towards his Level 2 in Carpentry and Joinery and goes to Derby College one day a week.
Sean said at both college and work "there's respect for everybody. You're treated properly, like a grown-up." Sean's job involves working on "doorways, fences, gates, kitchen windows…anything really."
He said it was too soon to say which direction his career might take.
Derby-based Metworks was formed in February 2016 as the in-house maintenance supplier to Metropolitan, one of the UK's leading providers of affordable housing and care and support services.
The company has around 60 in its frontline team, plus 18 management and back office support staff.
Managing director of Metworks Gary Collins said the business had a number of key social objectives which included "adding value to local communities."
Sean is one half of Metworks' inaugural intake of two apprentices, along with apprentice plumber Emily Parnill.
Gary said: "They are doing really well. I think there is good liaison with my office and college, to provide proper validation of how they are getting on. I think it is important our college provider is local."
Gary said the business aimed to continue providing employment and training opportunities.
Metworks planned to help inform young people on potential opportunities by getting trades people to talk to them at school and college sites.
He said: "When you are young you really don't know what you want to do, so I think there are ways we can support people by giving them the information they might need. We'd like to think there are really good communication channels between us and the college."
Operations Director Ian Davies has personal experience in building a successful career from an apprenticeship – he started out 31 years ago in housing maintenance as an apprentice himself.
He said: "Over the last 12 to 15 years I have helped develop perhaps 40 people into a more senior position.
There is every opportunity, if we nurture and capture what we can in these young people, and the people who follow from Derby College, that they can develop further with Metworks and go on to great things."
The college work is as good as the work itself – I'm enjoying both. I'm busy all day, doing bench joinery, compared to the site joinery I'm doing at work. I'm getting to know the different sides of it. I'm meeting new people. It's good. I decided to go into joinery because I like making things: three quarters of my subjects at school were design ones. I like everything about college. It's good, apart from going home at quarter to six! They can be long days. I'd really recommend an apprenticeship, you're straight away learning on the job and at college. It's the way I wanted it.