Sarah Barker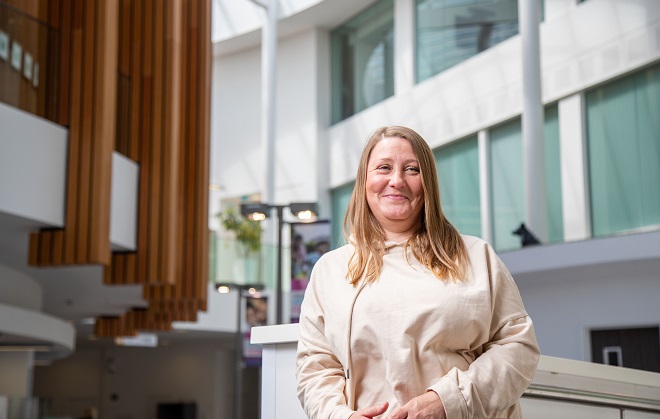 Study Type: Apprenticeship
Study Location: The Roundhouse
Subject Studied: Professional Construction

Structural engineering technician Sarah celebrates a first for DCG
Derby City Council structural engineering technician Sarah Barker is celebrating a notable achievement.
She recently became Derby College Group's first female higher apprentice to pass End Point Assessment (EPA) on the Level 4 Higher Apprenticeship in Professional Construction (Construction Site Engineering Technician Standard).
Sarah, who is 47, is proud of what she's achieved, but says she could not have done it without the tremendous support of her Derby College tutors or her colleagues at Derby City Council.
She said: "I'd been out of education for a while when I started my higher apprenticeship in 2018 and I think I was a bit blasé about what was involved in my Civil Engineering HNC – especially the maths side.
"Fortunately, our maths tutor at college was terrific and gave me and my colleague Clive so much individual help.
"My EPA was undertaken by ICE, the Institution of Civil Engineers and I'm so grateful to my employer, too, for giving me the opportunity to gain membership of ICE."
Sarah enjoys the variety in her job. She is currently drafting a structure inspection report following the recent flooding along the River Derwent as well as working on a public health project that will be rolled out across the council.
Before she joined the Highways department she worked on the city council's Street Pride team – a role that gave her valuable insight into how the local authority works.
Sarah didn't go into construction straight from school (she returned to education when her children were six and seven) but she's always been interested in how things are made.
She said: "My uncles are builders and I remember them building a brick fireplace with an arch in it for my mum. I was only about seven but I was intrigued as to how they'd done it and how the arch managed to stay in place in mid-air!"
My experience shows that if you're confident and willing to make the most of new opportunities as they come along, then you can change your career direction. I enjoy my work and would definitely recommend a career in construction."
The knowledge Sarah has acquired though her job and college study has also been of use in her home life too. She's currently working with her partner, a builder, to complete their second house renovation project.
Fortunately, our maths tutor at college was terrific and gave me and my colleague Clive so much individual help.