Nicole Bullock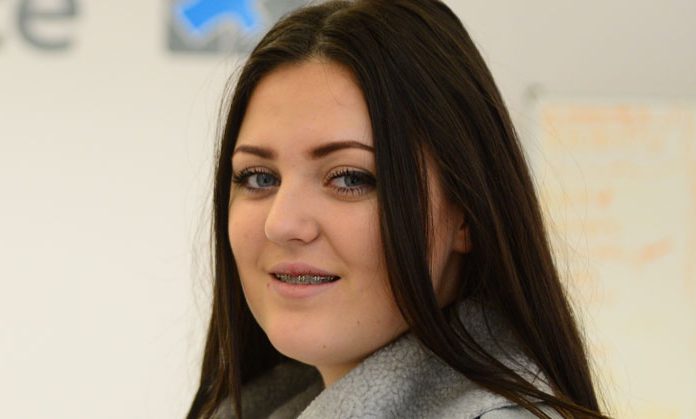 Study Type: Apprenticeship
Study Location: The Roundhouse
Subject Studied: Business,Leadership and Management

Admin team leader Nicole says Derby College 'put me on my feet'
Teenager Nicole Bullock says Derby College has "guided her life" as it put her on the path towards a career as a mortgage broker.
Former apprentice Nicole was the first person taken on by growing Derby business Create Finance.
The 18-year-old, from Chaddesden, left school with 10 good GCSEs but was adamant she did not want to go to college full-time.
Instead, she jumped at the opportunity of becoming an apprentice administrator with the Full Street-based business.
She said the apprenticeship included studying Business Administration with Derby College and it "fitted me perfectly".
Nicole found the Level 2 NVQ "was relevant to what we were doing here". She said that the units were chosen to best meet the needs of her role. After passing her NVQ and completing her apprenticeship,
Nicole was taken on and then achieved promotion to become Administration Team Leader. She is now looking to take her industry CeMAP exams so she can work as a self-employed mortgage broker herself.
Riverside Chambers-based Create Finance was launched in August 2015 by Derby men Gindy Mathoon, who attended Derby Moor Community College and Karl Yeoman, who went to Allestree Woodlands, along with Pete Mugleston, (correct) who is originally from Nuneaton.
The business has grown to employ 26 people, including the three directors. Gindy said Nicole, the company's first employee, was now administration team leader and a "role model and mentor for any new or existing administration staff."
He added: "Derby College sources suitable candidates who potentially have the right qualities to work for Create Finance.
The administrators are the backbone of the business and without high quality administration we can't grow as a business. We're expanding gradually, and our link with Derby College has allowed us to progress."
I'm grateful to the college – it's put me on my feet and guided my life. Without the college's help I wouldn't have my job here. It's literally put me on the path to my career. The aim now is to work hard and make as much money as I can. You can be self-employed here as a broker. When I am a bit older, and the company and I both feel that I am ready for it, that's what I'd like to do.