Michael Smith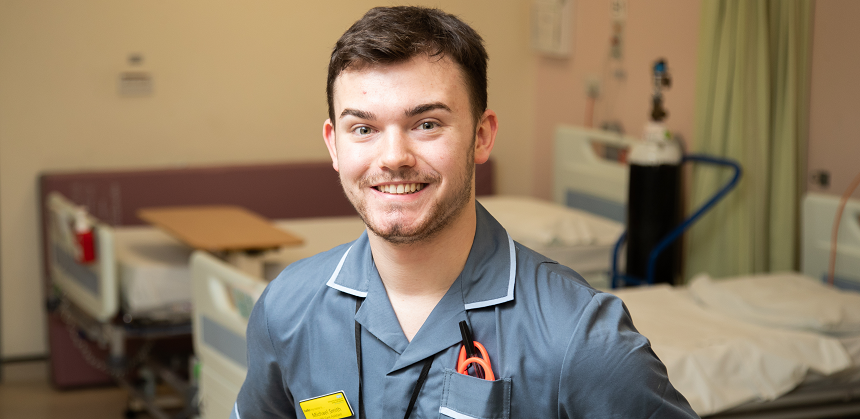 Study Type: Apprenticeship
Study Location: The Roundhouse
Subject Studied: Health

Employer academy prepared Michael for his future career
Health care assistant Michael Smith has recently completed his apprenticeship and is already "a really valuable" team member on ward 206 at the Royal Derby Hospital.
Michael, 21, took levels two and three in Health and Social Care at the Roundhouse, where he also gained valuable work experience through the innovative Employer Academy run in partnership with the University Hospitals of Derby and Burton NHS Foundation Trust.
This voluntary work helped him secure clinical apprenticeship role with the Trust.
Michael trained on orthopaedic Ward 206 and was supported academically throughout his apprenticeship by DCG.
He is now a qualified Health Care Assistant on the ward – following in the footsteps of his mum and brother.
Michael said: "I'm happy as an HCA, but in future I may look at becoming a nurse practitioner or physiotherapist."
Senior Ward Sister Lynsey Heald described Michael as "a really valuable member of the team" and said his college study programme and work experience through the Employer Academy helped prepare him for the ward.
She added: "He's really hard working and he's got a lovely way with the patients, and he gets on really well with the team.
"Doing the health and social care courses really helped because he knew what to expect. They become a bit more confident, as well. We've got a recent new apprentice and Michael's really taken her under his wing."
I like caring for people, I'm enjoying the job and I really like the team. I'd recommend it.