Maryn Ewoma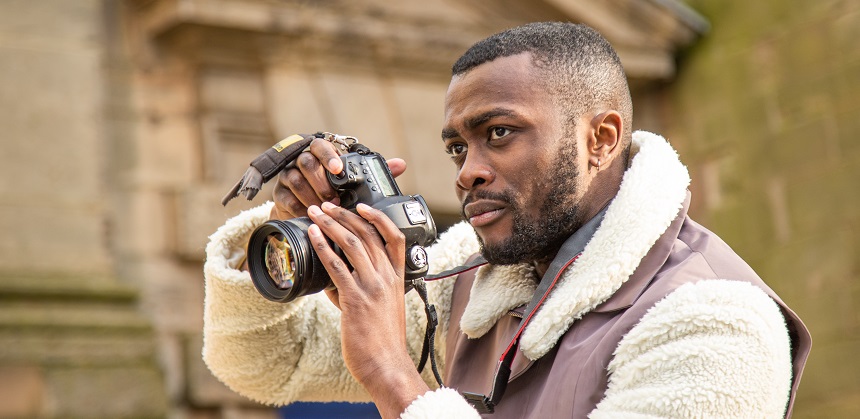 Study Type: School Leaver Academic
Study Location: Joseph Wright Centre
Subject Studied: A Levels

Fashion photographer Martyn working with global brands
When freelance fashion photographer Martyn Ewoma first went to Derby College to take A levels, he had no idea where his graphics course might lead.
At the time he thought he wanted to train as an architect and had no previous interest in photography. But that changed when he started taking pictures of friends for a College project.
Now, the 24-year-old is a well-respected fashion photographer, having worked on projects for global brands such as British Vogue, Nike and Umbro.
Martyn's previous work for other sports brands got him recommended to Nike, and he photographed the England Football team just before players flew out to Russia for the World Cup.
He has also taken on photographic assignments for the BBC and publications including the Guardian newspaper and Soccer Bible.
Since leaving college, Martyn has got a degree in visual communications, specialising in photography, from Birmingham City University, and a master's degree in media and communications from Goldsmiths in London.
While proud of these achievements, Martyn puts much of his success down to his time at Derby College – and the confidence it gave him to network and become more entrepreneurial.
Martyn, who still lives in Derby but spends lot of time in London, is keen to help others starting out in similar careers.
He recently gave a talk to Derby College art and design students about the many opportunities the creative sector offers.
I was definitely inspired by my graphics lecturers at Derby College. They told us about exhibitions that were on nearby, such as in Leicester and Nottingham, and because they knew their industry so well, they were able to tell us about the opportunities it presented. Before I came to college for A levels, I had no idea such careers even existed.