Macauley Shaw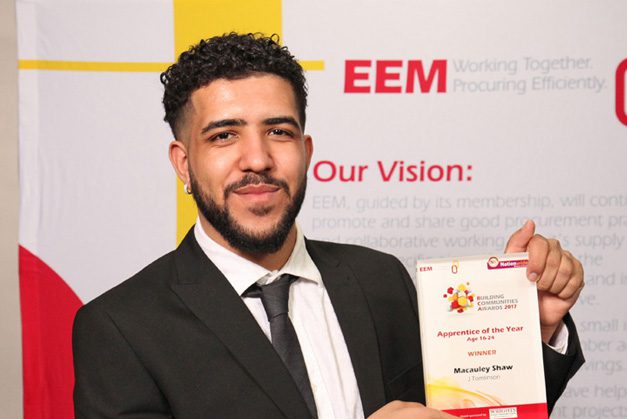 Study Type: Apprenticeship
Study Location: The Roundhouse
Subject Studied: Construction - Plumbing and Gas Training

J Tomlinson gas engineer a winner in the Building Communities Awards 2017
J Tomlinson gas engineer Macauley Shaw has won the title of Apprentice of the Year (16-24) in the Building Communities Awards 2017.
The 20-year-old scooped the accolade at an awards ceremony held at East Midlands Conference Centre, Nottingham.
Macauley has been with Nottingham-based building services company J Tomlinson since leaving school at the age of 16 and is now a qualified gas engineer.
Martin Ardron, J Tomlinson's operations director repairs and maintenance and facilities management, said: "We are thrilled that Macauley has been named Apprentice of the Year at the Building Communities Awards and are very proud of him. It's a richly deserved award.
Macauley works in the Repair & Maintenance – Service & Repair division at J Tomlinson and travels across the Midlands and Yorkshire as part of his role.
He is a key member of the 24-hour call-out rota, working on plumbing emergencies overnight, and has recently begun attending gas call outs too.
He undertook part of his training at Derby College and since joining J Tomlinson he has completed his NVQ level 2 and NVQ level 3 in Plumbing and Heating, as well as the Accredited Certification Scheme (ACS) – the industry recognised and accepted route for operatives to gain a certificate of competence, needed to become a member of the Gas Safe Register.
He is now hoping to undertake further qualifications so that he can, in his own words, 'better myself in the company'.
His line manager, project manager, Jim Upex said: "Macauley is a great engineer and a great team player. We're delighted that his hard work and dedication has been recognised and rewarded with this title of Apprentice of the Year."
The Building Communities Awards recognise the professionalism, excellence and innovation sitting at the heart of the East Midlands' construction and housing community in both the public and the private sectors.
The Apprentice of the Year (16-24) Award was sponsored by J Wright Roofing Ltd.
As a company, J Tomlinson provides a range of integrated building services which include construction, mechanical and electrical services (M&E), facilities management, refurbishment, repairs and maintenance and regeneration.
It primarily operates across the East Midlands, West Midlands and Yorkshire.
As a company, J Tomlinson is very committed to training our workforce, improving our team and individual performances, and giving our employees the opportunity to achieve professional and personal growth. Macauley has been with us since leaving school and has grasped all the opportunities that have been given to him with both hands. He receives many compliments from customers and is a much-valued member of the J Tomlinson team