Luke Green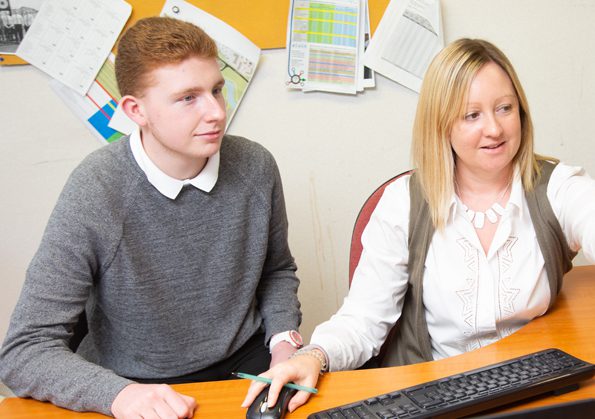 Study Type: School Leaver Vocational
Study Location: The Roundhouse
Subject Studied: Professional Construction

Luke ditches sixth form for college and a future in quantity surveying
Teenager Luke Green admits he had no idea "whatsoever" about his future career before he switched from sixth form to Derby College.
Now he has his sights set on gaining a higher apprenticeship as he works towards life as a quantity surveyor. Gaining a place at College was a weight off his mind.
Luke, 18, has gained three Distinction *s in the first year of his Level 3 Extended Diploma in Professional Construction in the Built Environment. Previously, he had been studying A Level maths, economics and psychology at school.
He did not enjoy it and he could not see where it was leading. Luke wanted to find a new direction and his careers teacher pointed out a Derby College professional construction course which might appeal to him.
He went to an open day and liked what he saw. Luke finds his lecturers supportive and he really enjoys having a tangible career target to aim for.
As part of his course, Luke is also gaining valuable work experience with construction company Bowmer & Kirkland at Heage, where his attitude to work has impressed his mentor Emma Hibbert. Quantity surveyor Emma said: "Luke is keen to learn and mixes well with the team in the office.
"We give him a varied set of tasks to do to enable him to understand what a QS does on a daily basis to help his understanding of the role. "Luke has good attention to detail and is thorough in the tasks he is given to do, he asks questions when he is unsure of something and his time- keeping is also very good.
"Taking on Derby College students like Luke allows our business to see what the student's work ethic is like. It also allows the student to find out more about the role, which means they have a better understanding of what they are coming to do. It helps them realise, before they start work, if the role is right for them."
When I was accepted, it was a weight of my mind because I knew I didn't want to do the sixth form, and I wanted to know what I was going to do in the next academic year. I went for the course because it's a nice mixture of on-site and off-site office work and you get multiple options for your career. I want to go on to a higher apprenticeship and then become a quantity surveyor.