Louise Alberts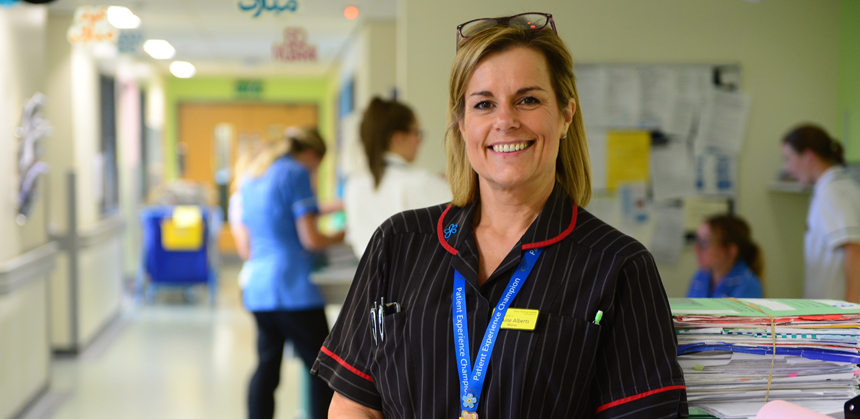 Study Type: Adult and Community
Study Location: Distance Learning
Subject Studied: Access to Higher Education

Hospital matron Louise owes nursing career to Derby College
Derby hospital matron Louise Alberts is responsible for overseeing nine wards specialising in acute medicine for older people.
It's a challenging role in a profession she loves – but without Derby College Louise is convinced she would never have been able to pursue a career in nursing.
A mum to four girls, Louise had previously worked in sales and didn't take the College's Access to Nursing course until she was in her mid-thirties. Louise's decision to train as a nurse came after she had twins. As they grew older, she realised that she didn't want to go back into sales, so she started looking for a new career.
Nottingham University directed her to Derby College's Access to Nursing course, which, she found, fitted in perfectly with school hours.
After completing her access course, Louise went on to take her nursing degree at Nottingham University's Derby campus.
She worked as a staff nurse, then junior and senior sister at London Road Community Hospital before being seconded to the role of matron in Derby City's community services.
Two-and-a-half years ago she became permanent matron for acute medicine for older people. Louise said: "I've stayed in touch with a lot of the people I studied with at college and then at university.
"Sometimes we have staff who have started at an entry level post in the NHS but who aspire to become a registered nurse. I'm a huge advocate of the Access course so I always direct them to Derby College."
When I enrolled in 2004, I had been out of education for a long time. It had been years since I'd taken my GCSEs, so it was effectively like starting from the beginning. Academic writing is a specific skill and without the Access course I wouldn't have had what it takes to go on to university and study for my nursing degree.