Lewis Morrell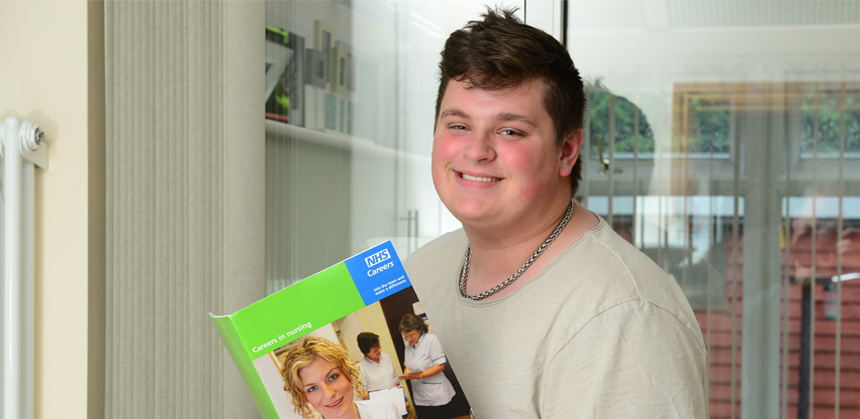 Study Type: School Leaver Vocational
Study Location: The Roundhouse
Subject Studied: Health

Lewis follows dad and granddad into healthcare
Teenager Lewis Morrell is aiming to become the third generation of his family to go into nursing.
But disappointing school GCSE exam results meant he had to have a rethink and plot a new route on the road to his career.
Looking for suitable courses, Lewis attended a College open event and was impressed with both what was on offer and the friendliness of the staff.
Eighteen-year-old Lewis described Derby College as "a lifeline" which has helped to give him confidence and a mind-set that he can achieve his goals.
A hospital work placement, run through the college's Employer Academy programme, has directly helped him land a health care assistant apprenticeship at the Royal Derby Hospital.
And Lewis has also completed Health and Social Care and English Functional Skills at Level 2, with a double pass and a merit. He is waiting for his GCSE English and CGSE Science results.
Lewis's dad is a children's nurse and his grandad worked in nursing and midwifery. He now manages a doctors' practice in Australia.
Knowing Lewis's skillset and temperament, they said that getting into health care would be "the best thing he ever did".
I was a bit down about my English and Science results from school, because I needed those for nursing. Once I've got them I'll be able to get on further, so college was a lifeline. It supported me through the first year and they pushed me. It's given me confidence. Rather than thinking 'maybe I can't do this', it helped me think 'yes, I can actually do this.' It was very supportive through all of my time and I'm proud to have been accepted for the apprenticeship. I'd say to anybody who didn't quite get the exams they want: go to College, go to every lesson, stick with it and eventually it'll all click. It's a four year apprenticeship. I want to go on to university and get my nursing degree and then get into children's nursing eventually.