Kirstie Peel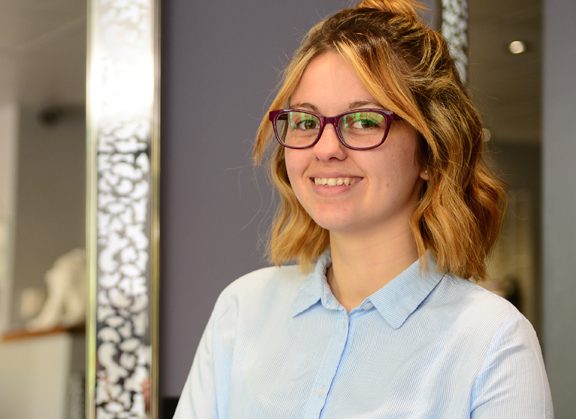 Study Type: School Leaver Vocational
Study Location: The Roundhouse
Subject Studied: Hair

Hair Angels helps learner Kirstie to grow in confidence
Derby College hairdressing student Kirstie Peel used to be quite shy but since gaining work experience with Hair Angels her confidence has really grown.
Kirstie, who is 17 and from Chaddesden, is about to start her level 3 course at the Roundhouse but works at the Oakwood hair salon on Wednesdays and Saturdays.
Since she started coming to the salon in January, Kirstie has attended the Poppies Tea Dance, helping Hair Angels to raise money for their Royal British Legion, and been to a hair show in Nottingham.
She has also supported Holly Clarke, the co-owner of Hair Angels, in delivering a shampoo masterclass at Derby College.
As vice chair of the College's Hair and Beauty Employment and Skills Academy Board, Holly has helped many students like Kirstie to come out of their shell and feel more comfortable talking to clients.
Holly and her business partner, Heather Edwards, have provided work experience to many College students in recent years, including six learners in the past 12 months.
Kirstie, who likes colouring best, is now focusing on her level 3 and improving her skills.
Before I started my work experience through Derby College I wasn't that confident and was shy about speaking to clients. I'm much more confident now than I was in my first year and everyone at Hair Angels has been so supportive and friendly. I'm finding it easier every day. I've really come out of myself.