Joshua Tonks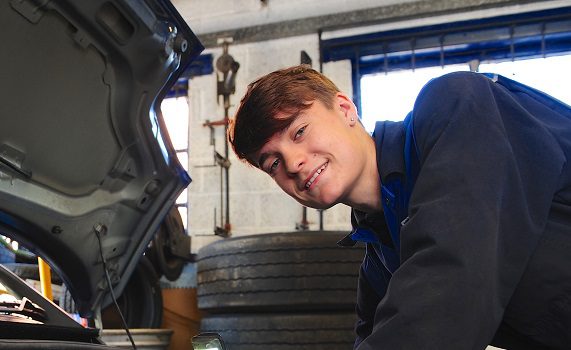 Study Type: School Leaver Vocational
Study Location: Johnson Building
Subject Studied: Steps

Motor Vehicle transitions course puts Joshua on the right road
A transitions course in Motor Vehicles has helped put Belper teenager Joshua Tonks on the road to his chosen career.
Joshua, aged 17, is now a motor vehicle apprentice with Ripley-based garage Gary Owen Motor Services and is enjoying working on a whole range of different cars.
After successfully completing the one-year transitions course, Joshua's dad, who works as lorry mechanic, helped him land his ideal apprenticeship.
The vocational programme was perfectly suited to the young school leaver, who has always had a passion for motor vehicles and wanted help in developing his skills.
While on the course, Joshua achieved an Entry Level 3 Certificate in Vehicle Technology as well as gaining Functional Skills Maths and Functional Skills English qualifications.
Joshua, who is currently learning to drive, likes working on all makes and models of cars but if he had a choice of which make and model to own, it would be the Alfa Romeo C4.
The transitions course at Derby College helped me get my apprenticeship and I'd recommend it to other people leaving school who are keen to get into the motor vehicle industry.