Jamie Wasley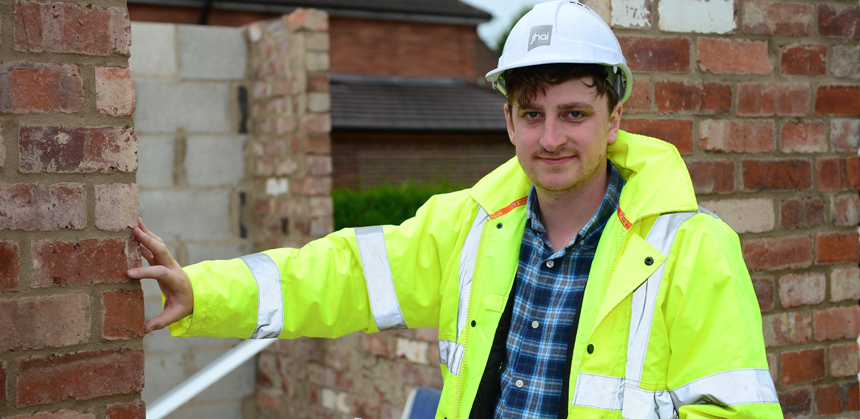 Study Type: Apprenticeship
Study Location: Hudson Building
Subject Studied: Construction - Brickwork

Construction apprentice Jamie became a Buildings Inspector
The moment Jamie Wasley sat down to start his sixth form studies, he realised a further two years in the classroom was not for him.
He didn't go back for day two. Instead he got himself an apprenticeship with a local builder and enrolled with Derby College.
Now, aged 27, Jamie is an award winning former bricklayer, a buildings inspector, and he is poised to become a chartered surveyor.
He has special praise for Derby College which supported him when he began to fall behind while halfway through his Level 3 Construction Diploma.
Jamie suffered a broken jaw in an unprovoked attack and underwent three months of painful treatment.
As part of Level 3, apprentices are required to show a range of brickwork skills by making separate pieces over a period of time, and he was struggling to get them done.
But his lecturers helped him design one "masterpiece" which he built featuring all the aspects he needed – an arch, a chimney stack, a curved wall, stilts and more.
He said the staff were "brilliant" and helped him through the dark times.
Jamie went from strength-to-strength, winning both the College's and the East Midlands' SkillBuild competitions, before finishing third in the World Championship SkillBuild event in Birmingham.
And because of his commitment, he was awarded a £1,000 Bowmer and Kirkland Bursary by the College.
Jamie passed his Level 2 and 3 construction diplomas with distinctions and in parallel took his Level 2 NVQ Trowel Occupations and Level 3 NVQ Brickwork (Advanced Craft).
Having worked with a local builder, Jamie was head hunted by building surveyors JHAI Ltd where he is now a buildings inspector and 18 months away from qualifying as a chartered surveyor.
He intends to "get as good as I can be" and perhaps specialise.
He is also considering going on to become a college lecturer to support teenagers who have practical rather than academic strengths.
At college you learn the skills and intricate details you need, especially on Level 3. The biggest thing I found is it gives you a place to practise. When you get to site it's not practice, you're building and it's staying up. You've got to stand back and be happy with it. The big thing about college was the lecturers were brilliant, "not "yes, sir", "no sir." They taught you stuff you needed to know. You notice yourself becoming more useful at work. You learn something and then you can apply it.