Hannah Mountford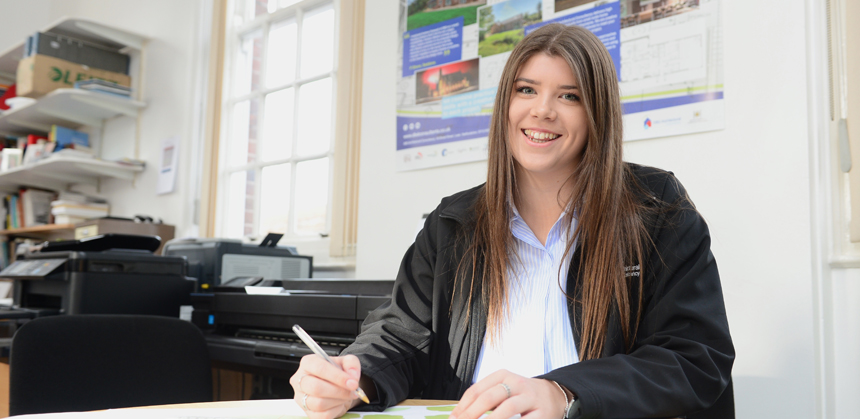 Study Type: Apprenticeship
Study Location: Hudson Building
Subject Studied: Professional Construction

Derby College course comes to architectural consultancy's rescue
A highly commended former Derby College apprentice is starting university and building towards a career as an architectural technologist.
Twenty-year-old Hannah Mountford said the coursework at college suited her learning style and the Roundhouse environment boosted her confidence.
Hannah took a Level 3 BTEC and Level 3 NVQ in Construction and the Built Environment as part of her apprenticeship at an architectural consultancy, in her hometown of Leek, in Staffordshire.
Not only did she pass with a double distinction*, she was also highly commended as a second year student in the college's Peak Awards.
Hannah's Peak Award citation praised her work as being at "a level far in advance of that expected for a second year apprentice – completing some outstanding designs and plans."
Her Distinction*s provided a strong basis to help land a place at the University of Derby, where she will study architectural technology part-time.
A trainee architectural technician, Hannah now works at Hewitt & Carr Architects, in Cheadle, Staffordshire.
Doing my A-Levels, I got top marks for ICT but I wasn't that happy with my English Literature, because I made mistakes in the exam. I'm not so good at exams but my BTEC was all course work, so I was much happier with that. College helped me a lot. I enjoyed it and it helped my confidence. As I achieved a double distinction* at college, I've been accepted into the University of Derby to study architectural technology, on day release, alongside my work. In the future, when I graduate, I'm aiming to be a qualified architectural technologist and progress to become TCIAT/MCIAT industry qualified. I'd like to continue in the same practice, though. I'm happy where I am.