Hannah McDonald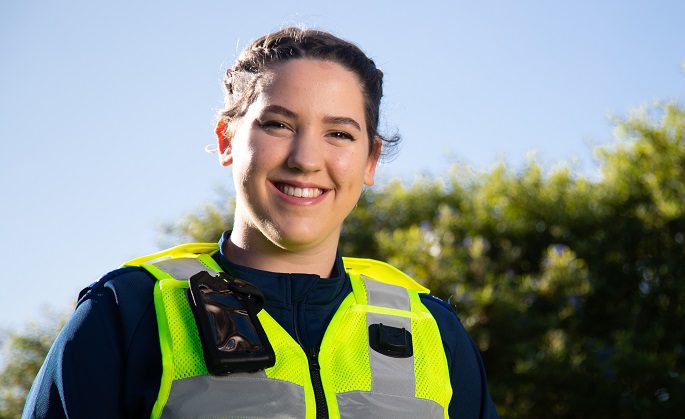 Study Type: School Leaver Academic
Study Location: Joseph Wright Centre
Subject Studied: A Levels

Confidence gained in English lectures helps A level student Hannah secure policing role
Learning how to share her opinion, build her vocabulary and speak more effectively has given former Derby College A Levels student Hannah McDonald a good grounding for a career with the police.
Hannah, who is 18 and from Newton, is soon to become a Police Community Support Officer (PCSO) following a rigorous recruitment procedure.
She has also secured a place on the Professional Policing BA (Hons) degree course at Nottingham Trent University, deferred until September 2021.
In her PCSO role, Hannah will be based in Ripley and Chesterfield, supporting Derbyshire Police by going into schools to talk about issues such as knife crime and road safety.
Hannah, who took law, psychology and combined English Literature and English Language A levels at Joseph Wright Centre, found her English lecturers especially helpful.
She said: "I'd thought English was all about reading books but it's about so much more. It's about being put under pressure and trusting your opinions enough to share them or put them in an essay, because English is so subjective and there's never a wrong answer.
In our English classes we gave PowerPoint presentations to the class, so we got used to sharing our ideas and opinions.
The course also enhanced my communication skills. It enabled me to build up my vocabulary to speak more effectively."
These abilities gave Hannah the confidence to volunteer at a local primary school, helping children with maths and English, on her Wednesday mornings off from College – experience which she is  sure led to her getting her PCSO role.
There aren't many PCSO places so it's extremely competitive and it was a tough recruitment process. My English lecturers were incredibly supportive in helping me prepare my application, even though we've not been at College for months because of lockdown. Going to JWC has definitely been confidence-building and a good grounding for my police career. My English teachers taught me how to speak up for myself and not be afraid to give my opinion.