Emily Field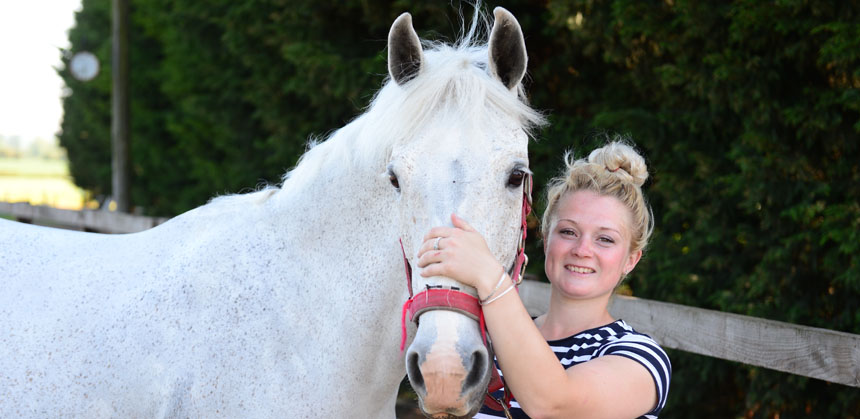 Study Type: School Leaver Vocational
Study Location: Broomfield Hall
Subject Studied: Equine

Open Day unveils equine career for Emily
Schoolgirl Emily Field had no idea her hobby could turn into a career until she went to a Derby College Open Evening.
Hailing from a family which is "not horsey at all ", Emily now has a string of equine qualifications at the age of just 22.
Emily was unsure what she wanted to do after her GCSEs. But as a keen rider – although she did not have her own horse at the time – the equine courses stood out.
Enthused by the open evening, she decided to pursue the Level 3 Extended Diploma in Horse Management, although she admits she was nervous.
She worried that she might be left behind because she was not from a "horsey" background and didn't own her own horse.
Instead, she thrived, and found the environment friendly and helpful. Emily described the course as "very practical", which suited her style of learning, with most days spent on the yard.
It also included more scientific areas such as equine feeding, digestion and sickness. Emily completed her Diploma in 2013, with Passes and Merits and also took her industry qualifications BHS levels 1 and 2.
Overall, she said she "pretty much learned everything I needed to know" to put into practice as a groom when she left college.
Emily has now worked at two horse yards and is enjoying her latest job at a stud yard in Nottinghamshire.
She has also gained her BHS levels 3 and 4 as well as a teaching qualification.
The Diploma was just so helpful. When I was leaving school I didn't even know you could get involved with horses as a full-time career and a proper job. It gave me a base to move upwards, I don't think I'd be able to be where I am now without it. I've been at the stud yard since September and it's entirely different to anything I've before, but I really enjoy it. I think my boss is happy with what I'm doing and I'm happy here.