Eloise Dobrzynski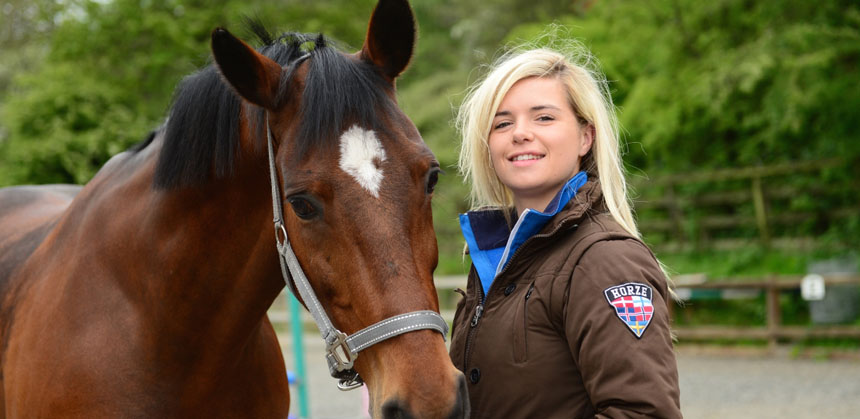 Study Type: School Leaver Vocational
Study Location: Broomfield Hall
Subject Studied: Equine

Horse-loving Eloise rides high after "off the cuff" tutor inspiration
As a horse-loving teenager, Eloise Dobrzynski found her vocation thanks to the talent-spotting skills of one her Derby College lecturers.
Eloise, now aged 23, "loved every minute" of her National Horse Diploma course at Broomfield Hall but was anxious about what came next.
She runs her coaching business, often instructing nervous riders, and works for an agency which provides grooms for privately owned yards.
Eloise's family have always owned horses and when she left school she wanted to work in the equine field in some capacity. She went to an event at Pride Park and saw Derby College's stand.
She was attracted by its horse display and was impressed by the course.
The two year Diploma improved her riding, taught her about business, insurance, equine science and gave her the confidence that she "knew what she talking about."
She also successfully took her BHS (British Horse Society) exams, stages 1and 2, which are all about riding and care and which were paid for by the college.
After college she worked at various yards and self-funded her BHSAI (instructors') exam before branching out on her own.
But it was a college module, where students taught each other, which sowed the seeds of her career.
For more on Eloise's business go to her Facebook page, Kalies Coaching.
It came from an off the cuff comment by Stephanie Meadows, one of the tutors. We were doing a module where we were teaching each other and she said 'you should really think about getting more into instructing, because you've got a talent for it.' Up until then, at 16 and 17, my mind was all over the place and I was a bit scared about leaving college – it was that which really focussed my mind. College gave me a good level of confidence – when I walked away, I felt I knew what I was talking about. Now I want to keep going with my qualifications and carry on with what I'm doing. I love it.