Ed Smith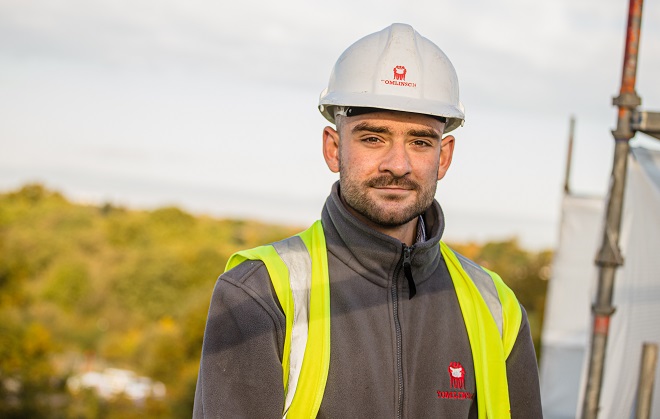 Study Type: Apprenticeship
Study Location: The Roundhouse
Subject Studied: Professional Construction

Assistant site manager Ed achieves a higher apprenticeship first for Derby College
Assistant site manager Ed Smith has become the first Derby College apprentice to achieve the new level 4 construction site supervisor higher apprenticeship standard.
Ed, who joined Derby-based construction group Tomlinson straight from school at 16, recently passed his EPA, End Point Assessment.
Now aged 22, he hadn't previously considered site management as a career but decided to apply for the professional construction apprenticeship as it looked interesting.
He was taken on by Tomlinson and spent two years as an apprentice on the Level 3 course then a further two years doing the HNC.
After that Ed had a final year's study to complete the HND course, working for Tomlinson on site four days a week and studying day release at Derby College
Ed said: "Derby College was good. I enjoyed it and found it quite flexible.
"Our lecturer, Mick, made sure that time spent at college fitted in with working life. He was always there for us if we had any issues."
Though his employer Ed is now studying part-time for a degree in Construction Management at Nottingham Trent University while also working on site on a school building project.
He added: "One of the best things about working as a site supervisor is the chance to work in lots of different places and meet many different people.
"I spent a year in the office when I first joined Tomlinson, getting to know all the departments, but since then I've worked on site.
"I've been all over the UK on commercial, industrial and residential projects, including working on a major manufacturing scheme in Nottingham.
"At the moment I'm on site in Coventry and before that I was in Birmingham for a year on an apartment scheme.
"I'll be studying for the next three years but once I've got my degree I'd like to work as a project manager, managing £20million plus projects.
"I'd quite like to go and work out in Dubai too. I've never been there before but why not?"
Derby College was good. I enjoyed it and found it quite flexible.