Drury Joinery – Employer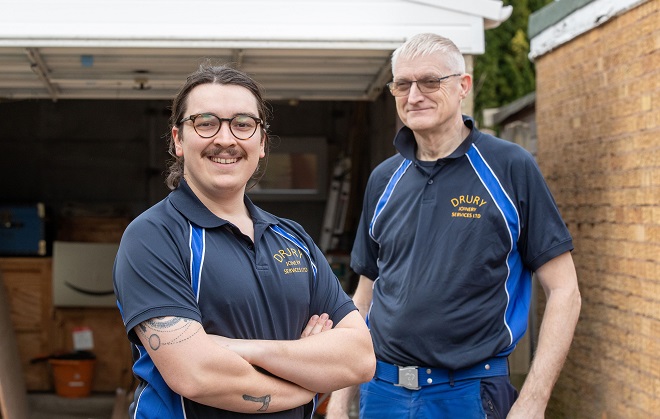 Study Type: Apprenticeship
Study Location: Hudson Building
Subject Studied: Construction - Carpentry

Nottinghamshire family run joinery business takes on its 11th apprentice
Nottinghamshire joinery business owner Lee Drury has always championed apprenticeships and is proud to have recently recruited his 11th apprentice, Andrew Truglia, via Derby College Group.
Lee, who founded Drury Joinery Services 20 years ago, believes apprenticeships are the future, and in 2017 he received the European Alliance for Apprenticeships Award in the microenterprise category during EU Skills Week.
Lee's company started working with DCG in 2021 after hearing good reports about the college's apprentice training delivery and is pleased with the progress made by his latest apprentice, 27-year-old Andrew.
He said: "We switched to Derby College in November last year, and Andrew is doing well on his level 2 Carpentry and Joinery apprenticeship. He's learning on the job with me and spending a day a week at college.
"I had a great apprenticeship and when I started my own business, I wanted to give something back.
"Over the years I've trained and employed 10 apprentices through their level 2 and 3 diplomas, and they're all still working in the construction industry.
"Of those 10, four have set up and now run their own businesses and two more are training joiners on behalf of their employers."
Lee, who began his own career as an apprentice shopfitter for Boots the Chemist, aged 16, would like to see other employers commit to similar apprenticeships to Andrew's.
He said: "By taking on young people like Andrew I'm passing on my skills and helping to train the next generation of carpenters and joiners.
"It's good to know that when I retire there are people with the necessary skills to carry on our trade.
"Unfortunately, some joinery businesses I talk to are reluctant to recruit apprentices but they're the ones who are missing out.
"Over the past couple of years my company has won jobs precisely because of our apprenticeship programme.
"Customers have told us they respect our commitment to training young people and, because we invest in apprentices, they'd rather give their business to us."
Lee, who before starting out on his own, worked as a site foreman and for Havelock Europa PLC, has more than 40 years' experience as a carpenter.
His company's services include shopfitting, renovations, property maintenance, remedial building work, bespoke wood projects, and kitchen and bathroom refits.
His work covers 'just about everything that's made of wood,' at a range of properties that include homes, schools, churches, community buildings, shops and offices.
Over the past couple of years my company has won jobs precisely because of our apprenticeship programme.