Andrew Patterson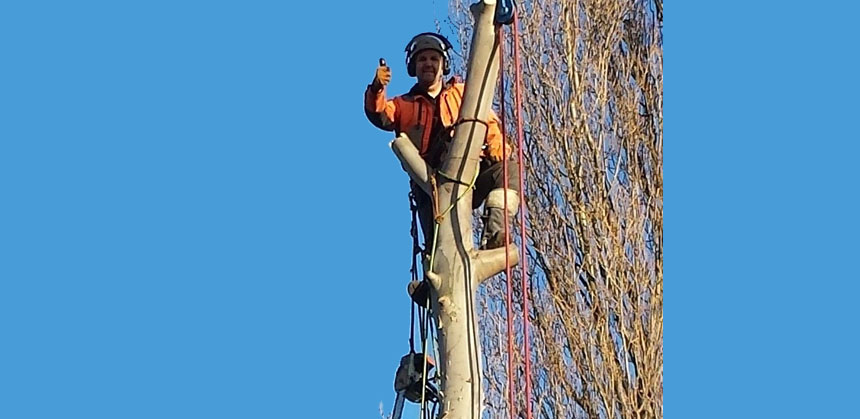 Study Type: School Leaver Vocational
Study Location: Broomfield Hall
Subject Studied: Arboriculture

Tree surgeon who trained at Broomfield seeks Derby College arboriculture student
Tree surgeon Andrew Patterson is looking to take on an arboriculture student from Derby College after Broomfield Hall's tree surgery course changed his life.
Andrew – who is known as Drew at work – owns Tree Hugger and Son, which also employs his son Ross, another former Broomfield student.
Drew set up the family business, which operates across Derbyshire and Nottinghamshire, after completing the forestry and arboriculture diploma at Derby College in 2005.
He said: "Ideally I would like someone who has nearly completed the Broomfield course and I have considered offering an apprenticeship to the right person."
Now 53, Drew discovered arboriculture by chance. At the age of 40 he'd been planning to give up his job as a postmaster and retrain as an electrician, but the college he had applied to had cancelled the course.
Fortunately he happened to see a poster advertising an open day at Broomfield –and after spotting someone swinging in a tree, he decided there and then that tree surgery was for him, even though he didn't like heights.
Inspired by his dad, Ross, now 28, took the same Broomfield course a couple of years later and is now junior partner.
My lecturers – David Frost, Simon Hunt and Sally were brilliant. David helped me get over my fear of heights and Simon and Sally taught me everything I needed to know about tree root underpinning. Tree surgery can be a challenging career. I'm in my early fifties now but I'm in good shape. I'm a martial arts instructor so I've kept myself fit. You need good levels of fitness in this job. It can be back breaking work but if you don't mind getting a few nicks, bruises and rashes and being outside in all weathers, it's one of the best jobs you could ever ask for.