Alison Biskup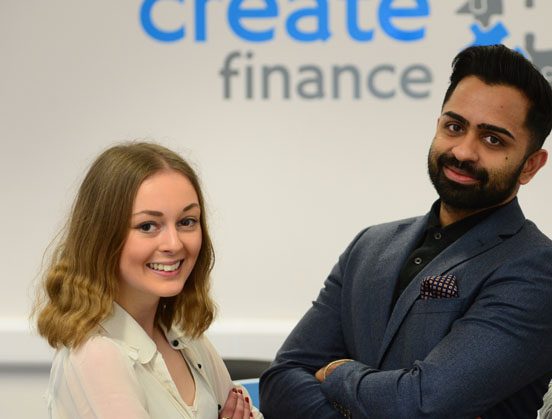 Study Type: School Leaver Vocational
Study Location: The Roundhouse
Subject Studied: Business,Leadership and Management

Derby College "really good" for mortgages administrator Alison
While she was at school, Alison Biskup was academically gifted enough to be identified as a potential university student. But there was a drawback – going to university was the last thing she wanted to do.
She wanted to find a job. Derby College has helped her realise that dream. Alison, 19, from Long Eaton, dropped out of sixth form college after a year, having completed four AS Levels.
Through Derby College she found an opportunity to become an apprentice case administrator at growing Derby business Create Finance.
Now she is working towards her NVQ Level 3 in Business Administration at Derby College, having already passed Level 2 during her year as an apprentice.
Alison has been taken on as full-time administrator, and has seen her responsibilities grow as she gains more experience.
Her role involves working one-to-one with a Create Finance Mortgage broker, looking after documentation and handling calls.
In the future Alison intends to either become a mortgage broker herself or become an expert in mortgage-based administration. She is aiming to take her industry recognised CeMAP qualifications.
Riverside Chambers-based Create Finance was launched in August 2015 by Derby men Gindy Mathoon, who attended Derby Moor Community College and Karl Yeoman, who went to Allestree Woodlands, along with Pete Mugleston who is originally from Nuneaton.
The business has grown to employ 26 people, including the three directors. Gindy said Alison has been with the company for nearly two years and is a very popular member of the team, who gets her work done effectively and with minimal supervision.
He said: "Derby College sources suitable candidates who potentially have the right qualities to work for Create Finance.
The administrators are the backbone of the business and without high quality administration we can't grow as a business. We're expanding gradually, and our link with Derby College has allowed us to progress."
Derby College is really good for me. At school I was always encouraged to go to university but it's not something I wanted to do. Really, I just wanted to go out and earn my own living and Derby College has helped me do that. Once I've completed my college courses, I'd like to do my industry CeMAP exams. I'd love to be a broker – either that or become amazing in administration and be somebody who knows all about mortgages.