Alice Lamb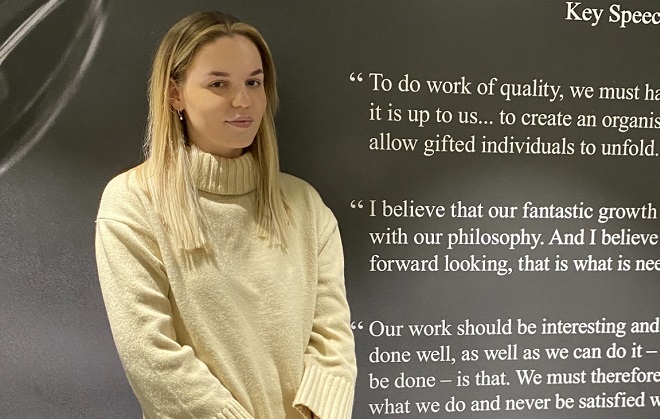 Study Type: School Leaver Vocational
Study Location: Hudson Building
Subject Studied: Professional Construction

Level 3 Professional Construction course gives Alice head start in higher apprenticeship
Taking Level 3 Professional Construction (Built Environment) has given former Derby College Group student Alice Lamb a head start in her higher apprenticeship with global business Arup.
Alice was one of only two out of 300 applicants to be offered the apprentice role of assistant technician with Arup, the international advisory design, planning and engineering building group, at its Nottingham office.
She is now studying part-time for a degree in Building Services at Coventry University as part of her higher apprenticeship.
Alice, who is 19 and from Duffield, said:
"Going to Derby College first has complemented my apprenticeship nicely.
"At college we learned computer aided design – and we were taught how to use Revit,  software specifically for building design professionals. My managers at Arup were surprised and pleased that I was already familiar with Revit when I started my job.
"They were also impressed that I could calculate lighting (lux) levels and knew that there were 300 lux in our classroom lights. Again, that was down to what I'd been taught at Derby College."
Alice, whose parents both have property-related careers, has always been fascinated by buildings and was determined to study for a career involving  property design.
She added: "My job is so interesting. I'm currently working on a housing project for a London borough and I've got colleagues who have done work for the likes of Google in California! Imagine being able to put your name to something like that?"
Alice, who is guaranteed a job at the end of her higher apprenticeship, aims to gain as much experience as she can  then hopefully one day become a senior engineer and project manager with the authority to sign off designs.
She added: "That would be amazing. I'm currently learning mechanical engineering and electrical engineering on my degree course but will be able to choose which of the two areas I'd like to specialise in later.
"It's too soon to say definitely yet which side I'll go for but I already feel swayed towards mechanical engineering, probably because there's more design involved. I'd like to get a really good degree – a First if I can.
I'm so glad I did the level 3 course at DCG and have said I'll come into college next year to give an alumni talk to current students."
Going to Derby College first has complemented my apprenticeship nicely.