Abbey Sisson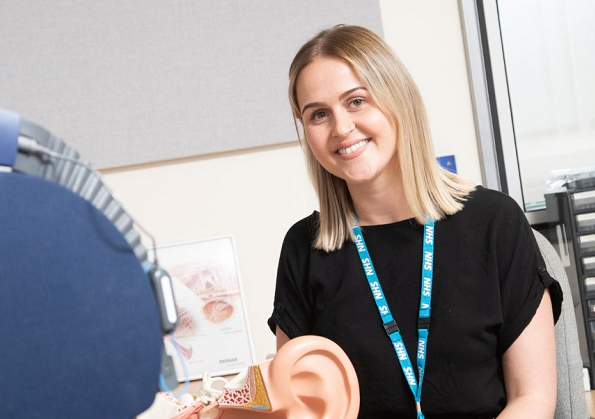 Study Type: School Leaver Vocational
Study Location: Broomfield Hall
Subject Studied: Public Services and Security

"Amazing" diploma offered more than sixth form for audiologist Abbey
As a teenager Royal Derby Hospital audiologist Abbey Sisson wanted to find "something different" after her GCSEs.
She had achieved As to Cs but was unsure about taking A levels because she wasn't a natural at exams.
She wanted to find a different direction and, on a whim, popped into an open day at Broomfield Hall.
Abbey liked what she found – she made friends immediately – and was impressed by the Level 3 Public Services Uniformed Extended Diploma.
It offered coursework modules, the equivalent of three A levels and "loads of opportunities" which helped her CV for job applications.
Abbey passed with a distinction and almost immediately after College landed a job as an emergency department assistant at the Royal Derby Hospital.
Finding no clear career path there, she applied internally and went on to work in audiology as an assistant.
While there, she devoted her spare time, doing work placement on her days off, to achieve a foundation degree and a first-class BSc Healthcare Science Audiology degree at Aston University.
Now a qualified audiologist at the Royal Derby, Abbey said her time at College helped her into the workplace.
I was keen to do something different, and it really was different – it was amazing. I don't think I would ever have had so many opportunities if I'd gone into the sixth form. We volunteered in schools, doing sports leadership, as well as stewarding for events too. We had loads of opportunities. Because of the course, when I came to apply for jobs, I had a lot to say.