Aaron Ledster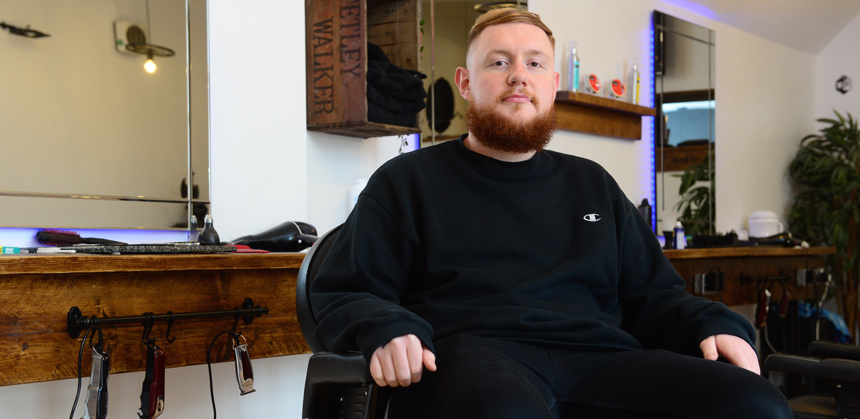 Study Type: School Leaver Vocational
Study Location: The Roundhouse
Subject Studied: Hair

Real-life challenges prepare Derby College student barbers for the salon
Barber Aaron Ledster says Derby College puts students in real-life work place situations to get them familiar with the challenges of the future.
He said his NVQ Level 2 in Barbering provided experience of a professional salon as a stepping stone into the workplace.
Aaron said students were asked to come to the salon on a Saturday – to get used to the hours – where they trained, while paying customers had their hair professionally cut.
Within a week of starting his course he said students were "thrown in at the deep end" and asked to bring in customers.
The 23-year-old, who now works at Knight and Co in Ilkeston, said he enjoyed barbering in his Year 10 work experience at school. But rather than immediately following that career, he said he was persuaded to go to college to do 'A' levels.
He decided to drop out after a year – "I'd just had enough" – and went to Derby College instead to take his NVQ. He said the lecturers asked individuals exactly what they were hoping to achieve so they could tailor their studies to suit them.
After college, Aaron moved from a salon in Heanor to another in Ilkeston, where he worked with a Brad Knight, a friend from his school days, who had himself trained as an apprentice barber at Derby College.
When Brad set up his own business, Knight and Co in Ilkeston, Aaron moved in September last year to work with him. Aaron said his key aims are to enjoy his job and to build a strong personal customer base.
Downstairs there was a fully functioning salon where people would come in and pay. We had to come into college on a Saturday, just to get us used to doing that, and we'd go downstairs. We'd be training on our dolls' heads, or washing each other's hair, or practising on each other's hair, while there were clients having their hair cut. "You learnt a lot of customer skills and got used to being in a salon in a professional environment. It helps you when you get into the workplace because you've got that experience.