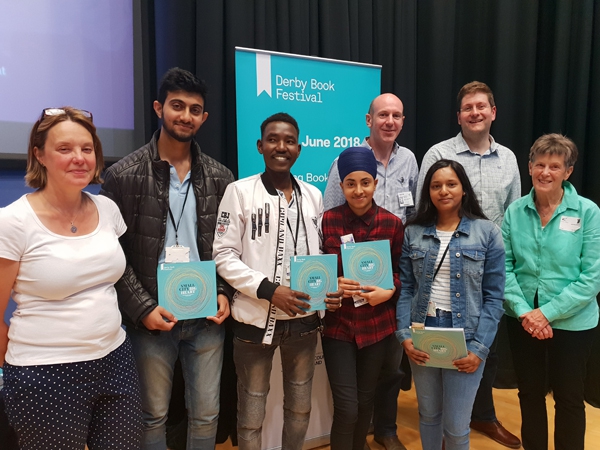 The 29 young people, whose first language is not English, are on Derby College's Lexis intensive language programme and their work has been illustrated by Art & Design students at the College.
The book entitled 'Small City Big Heart – Stories from Derby's Inner City' has been designed and printed by Derby creative agency Burnthebook on behalf of the Derby Book Festival and is now on sale for £4.50.
The book also includes poems written by a group of 12-year-old pupils at The Bemrose School in Derby where 50% of pupils speak English as an additional language; as well as lyrics of folk songs written by nine and 10-year-old pupils from Pear Tree Junior School who worked with a Roma author and story teller.
The book was launched at an event hosted by Derby College's Joseph Wright Centre when five College students read their stories on stage alongside pupils from both schools who read their poems and sang some of their songs.
Chair of Derby Book Festival Liz Fothergill CBE said: "Once again we have hugely valued our partnership with Derby College and the work which we have undertaken together with its students.
"Having arrived in the UK relatively recently with no language skills, the progress the students make by writing the stories for our book is extraordinary and a very visible reflection of the success of the College's Lexis programme."
Phil Newson, director of Burnthebook in Pride Park which specialises in publishing, added: "We have been blown away by the quality of not only the writing but also the amazing graphics which has made out job and designing and laying out this quite incredible collection of works such a joy."
One of the College students Avinash Kaur (18) has described coming to Derby from India in 2016 as one of the favourite moments of my life.
She said: "The thing I really like about Derby is the nature of this place which is so colourful and lively and the only thing which I miss from my country is the weather although I really enjoy the snow.
"Derby is a small city but has a big heart and it welcomes people from every corner of the world."
Her story appears in the book alongside contributions from students across the world including Eritrea, Afghanistan, Sudan, Portugal, Iran, Slovakia, Albania, Pakistan, Romania, Congo, Lithuania, Greece and Angola.
Derby College ESOL Team Manager Andrew Parfitt concluded: "As these young adults forge a new life for themselves in Derby, each one of them aspires to improve their lives by firstly improving their English language skills at Derby College."
Other partners involved in the Community Engagement Project included Arts Council England and Foundation Derbyshire and the young people were supported by Mahsuda Snaith, Jess Green, Richard O'Neill and Sarah Matthews, Sandeep Mahal, the Crumble Collective and Kim Gribbon.