The two-year Media Literacy Ambassador programme has been launched by the Guardian Foundation, with funding from the Department for Culture, Media and Sport.
Derby College is the first college in the UK to take part in the programme and only the second educational establishment in the country to be involved.
The project is a cross-curricular collaboration involving a team of 26 GCSE Plus and Level 2 Extended Certificate in Creative Media Studies students.
Last December the students visited the Guardian Education Centre offices in London and took part in a news editing workshop.
Then in January journalists from the Guardian Foundation travelled to Derby College to deliver two workshops to the students – a 'fake or real' workshop and a 'how to educate your peers' workshop.
The students have since delivered this training to their peers at the College, educating them about misinformation and disinformation in the media, how to spot fake news and how to critically evaluate news stories to determine the facts behind the headlines.
Debbie Painter, Curriculum Manager, GCSE Plus at Derby College Group, said: "It's been fantastic for our students to work closely with the Guardian Foundation team and play such a pivotal role in impacting how this exciting programme will be developed over the next two years.
"It is not easy to deliver to your peers, but our students have thrived in this leadership role and we are very proud of the work they have achieved. We have delivered to around 180 students which is the most of all the schools and colleges involved in the project to date.
"The project has had a big impact on those that have taken part; it's developed their critical thinking and evaluation skills, enhanced their teamwork and leadership skills, and boosted their confidence.
"We look forward to continuing to help deliver the programme over the coming months."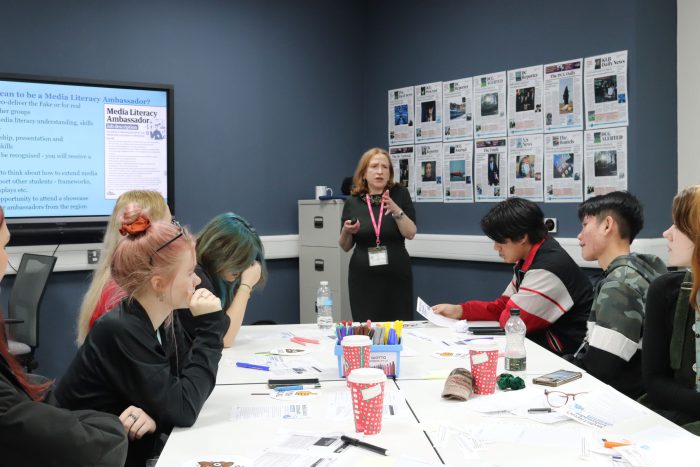 Margaret Holborn, Head of Secondary and Higher Education at The Guardian Foundation, said: "A huge thank you to the team at Derby College for all their amazing support, organisation and sheer hard work in piloting and trailblazing the Media Literacy Ambassador Programme.
"Also, a huge thank you to all the fabulous Media Literacy Ambassadors; it has been amazing to see how they have grown in confidence, developed skills and deepened their media literacy understanding and skills.
"Thanks also to the wonderful team of teachers that have supported them and the project; we have so enjoyed working with everyone."
Amy Naylor, Teacher of English Academic Studies at Derby College Group, added:
"The opportunities the Media Literacy Ambassadors have been given to co-create this programme and deliver this to their peers has been immense.
"They have thrived working across curriculum areas and embedding their learning into their academic lessons.
"It has been transformational!  Their learning is continuing to impact others as they are disseminating the project across other curriculum areas and sites at Derby College Group."
Jenna Clark, GCSE Plus student, said: "This project has given me confidence in the news I consume, as well as the ability to communicate with my fellow students on matters important to me."
She is one of four students from Derby College Group who have been selected to sit on a national panel providing feedback and ideas to the Guardian Foundation on the pilot programme.
They are now planning and developing the programme alongside the team, with a view to it being more widely rolled out in April.