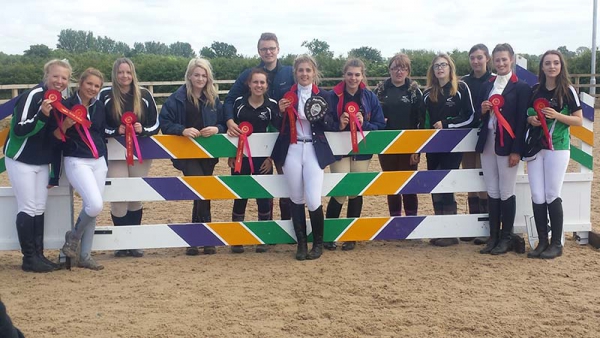 The team of eight, supported by fellow students, competed against teams from six other Midlands' colleges in the annual competition.
The day started with students Hannah Cross (17) and Kerris Stevenson (19) taking part in the dressage competition. They had to ride an unknown horse on a set dressage test and came second and third respectively.
Four students then represented the College in the quiz section. Mitchell Gent (19), Hannah Clark-Jagus (19), Corinna Northover-Brewer (18) and Evie Watson (18) answered questions about horses and general knowledge and gained the highest score – 88%.
The final element was show jumping and all hung on the success of the last two team members – Rhiannon Oliver (19) and Jade Hayes (19).
The girls had to jump clear rounds to maintain the team in the lead – but the jeopardy of the competition meant that riders who cleared a 1.5 metre 'joker fence' gained 50 points or lost the same amount for an error.
Rhiannon went first and clipped the fence so the pressure was on for Jade who explained: ""My heart was pounding on the approach and I realised that I didn't have the best quality of canter, however, I remained positive and rode forwards towards the fence – as we took off."I held my breath and the next thing I remember is hearing all my team mates going wild! We had cleared it and had won the competition. I stood up in my stirrups and punched the air – it was one of the best moments of my life!"
Derby College Equestrian Centre Manager Stephanie Meadows said: "The team were victorious and achieved first place under a great deal of pressure.
"We have a very good track record in Inter-College competitions and have won the last four that we have entered so there was additional pressure on this year's team to bring back the shield.
"I am so proud of their achievements."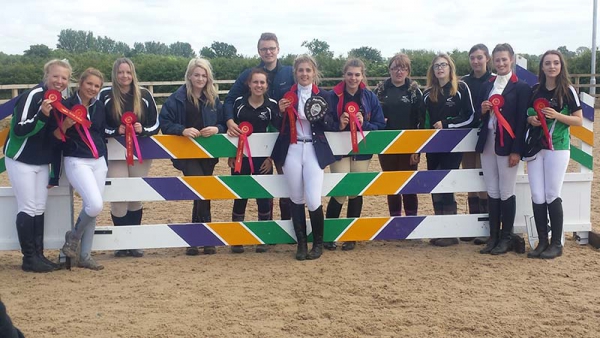 Tagged in: