DCG was one of the first providers to offer these brand new qualifications to students in 2020 and the only College in the East Midlands to offer all three of the first qualifications available: Advanced Education and Childcare; Digital Production, Design and Development; and Construction, Design, Surveying and Planning.
T Levels are 16 to 19 qualifications, broadly equivalent in size to three A levels, that focus on technical and vocational skills. They can help students into skilled employment, higher study or apprenticeships.
T Level students spend 80% of the course in their learning environment, gaining the skills that employers need. The other 20% is a meaningful industry placement, where they put these skills into action.
T Levels are now available to study in a wide range of subjects with DCG offering courses in three original three subjects as well as Civil Engineering, Digital Support Services, Engineering and Manufacturing: Design & Development, Health, Science as well as Management and Administration.
DCG Deputy Principal Kate Martin concluded: "We're incredibly proud to be celebrating the success of our first ever cohort of T Level students this summer and to welcoming T Level students to collect their results alongside the A Level students at the College on Thursday August 18.
"We were among the first providers in the country to offer these brilliant new qualifications, and it has been fantastic to see how they have been embraced by young people.
"I'm excited to see our students build on their success as they prepare for their next step – whether that be straight into the world of work, university or other post 18 options such as an apprenticeship."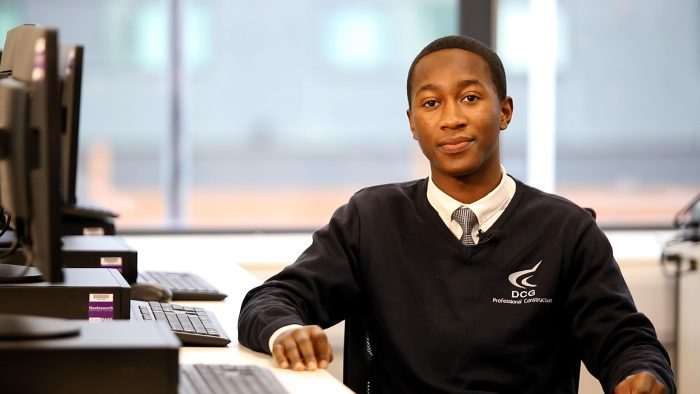 Construction, Design, Surveying and Planning T Level student Taz Makusha (21) from Derby is amongst the first students to graduate from the study programme.
He enrolled at DCG after doing a mechanical engineering apprenticeship and completed an industry placement at engineering consultancy Jackson Purdue Lever in Pride Park.
Taz has been accepted at Nottingham Trent University to study Civil Engineering. He said: "My goal has always been to be a structural engineer and this has confirmed it.  I recognised that the T-Levels are the best of both worlds – gaining top qualifications alongside work experience.
"I am so glad that I have done this and I am really looking forward to what the future holds."
Digital Production, Design and Development T Level student Charlie Simms (18), a former student at Long Eaton School, is looking forward to starting a degree in Digital Forensics at Birmingham City University with his sights set on a career in cyber security.
"This has been the best of both worlds and I have learnt a lot not just about IT skills but also how this function fits in with a company like Rolls-Royce."
Advanced Education and Childcare T Level student Lauren Whilde (18) attended West Park School in Spondon before coming to Derby College.  She has been offered a place on the Education Studies degree programme at the University of Derby.
"I have always wanted to work with children and I thought that the T-Level gave me the best opportunities to gain practical and theoretical skills.
"I did my placement at Asterdale Primary School which I loved and it has convinced me that I want to be a primary school teacher.
"It has been hard work and I found the exams challenging – particularly as we had not sat our proper GCSEs due to Covid but I am proud of what I have achieved and I have really grown in confidence whilst being at college."
These pioneering new qualifications have been designed in collaboration with leading employers to provide the skills that businesses across the region need.  
Among the companies involved in the co-design and co-delivery of the T Levels is The Greenhatch Group, which employs more than 130 staff across the UK and whose head office is in Little Eaton.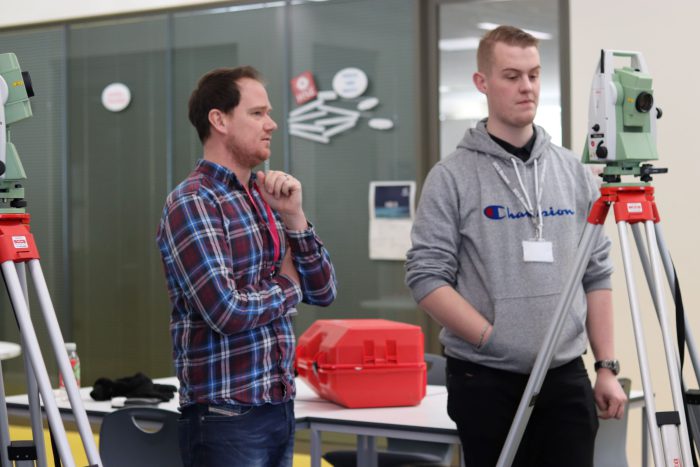 Greenhatch Senior surveyor Sam Lewis has advised DCG on the latest surveying equipment – supporting staff and students in its use – and has delivered practical surveying tuition both at the College and off-site on field trips as well as providing work placements this year to the second cohort of students.
Mr Lewis said: "We work in a highly qualified, well-educated and well paid profession with a lot to offer young people so it is important for us as a company to be involved with DCG to ensure the talent pipeline into the industry.
"Further to our role on the College's Industry Skills Board, we were keen to engage on the T-Level curriculum to ensure the qualification was relevant and up to date.
"An important aspect of our work is client relationships so soft skills such as communications, attitude and behaviour are equally as important as industry knowledge.
"As well as identifying potential apprentices who have the right work behaviours, attitudes and work ethics, being involved in the delivery of the curriculum has also helped us to better focus our training and professional development within the company.
"Being involved in the T-Level programme has been one of the most rewarding things that I have done."
T Level students will be attending the College's Joseph Wright Centre on August 18 from 8am to collect their results alongside A Level students and enrolment for the September 2022/23 intake of students across the College will start the following week on Thursday August 25.
Ask us about T Levels at one of our Open Days for courses starting in 2023.