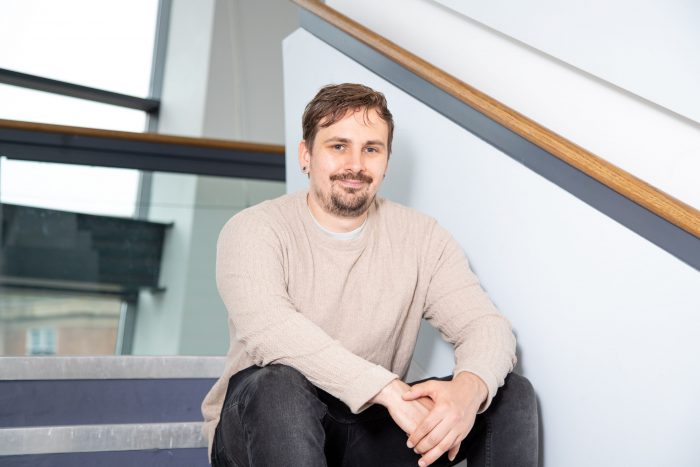 The 12-week online course teaches software development principles and practice as well as skills designed to help attendees find a job in the rapidly growing sector.
Among the students recently offered a new role in software development on completing the course, is  30-year-old Andrew Widdowson who previously worked in food retail.
Andrew is soon to start a level 3 apprenticeship with butchers Owen Taylor and Sons in Alfreton, the award-winning business which supplies retail and catering customers across the East Midlands.
He was offered the role after successfully undergoing an online interview with the firm organised by Derby College. Everyone on the course is guaranteed an interview with a prospective employer at the end of the 12 weeks, depending on their attendance.
As an apprentice software developer, Andrew will be assisting Owen Taylor and Sons with the company's new food ordering app, helping to fix errors and add new features.
Andrew, who is from Nottingham, has always taken an interest in IT but didn't pursue it as a career after school, instead choosing creative subjects and graduating with a degree in illustration.
He said: "I was keen to learn more about software development so when I noticed a D2N2 advert for the software bootcamp run by Derby College I decided to apply.
"I'd definitely recommend the boot camp to anyone interested in learning more about software development. It gives you the basic knowledge you'll need, such as teaching you programming languages. We also learned about computer science on the course – something I didn't know before.
One of the best aspects were the self-initiated projects. I found that they got you in the right mind set for problem solving."
Introduced to tackle a national skills shortage in software developers, the boot camps run regularly throughout the year with the next one starting on September 27.
To be accepted on the course – delivered via Microsoft Teams – students must have a proven history of an interest in software development and pass an interview. They must also be able to attend every day and have access to a laptop, PC or tablet. Their progress is evaluated through a combination of regular assessments, questions, projects, mini exams and attendance record.
Andrew added: "Our boot camp teacher, Valerie, was so supportive and knowledgeable – it was great to have someone point you in the right direction if you were ever struggling. The other learners were great too, so friendly. We've kept in touch and have met up in person since completing the course."
Find out more about our Software Development Bootcamp.