Level 2 Diploma in Policing, Criminology and Law
This study programme supports students who need to complete GCSE resits in both English and Maths. The College Diploma emphasises skills development at this level, so a supportive programme of maths and English is compulsory and will make up the bulk hours of study. 
Course Summary
Subject Area:
Public Services and Security
School Leaver - Vocational/Technical
Location:
Broomfield Hall
Full Time or Part Time:
FT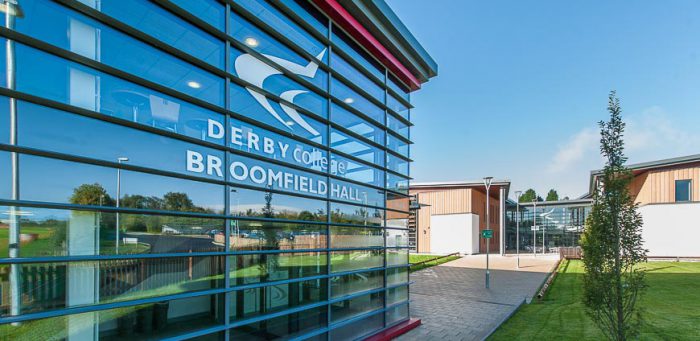 Apply now at: https://www.derby-college.ac.uk/course/level-2-diploma-in-policing-criminology-and-law
Course Information for Students
Who is this course for?
This study programme is specifically designed to support students who will need to complete GCSE resits in both English and Maths. The College Diploma places emphasis on skills development at this level and so a supportive programme of maths and English is compulsory within the course and will make up the bulk hours of study during the year.
Students on this course will look at the fundamentals of policing, criminology and law. This will include topics ranging from the effects of crime to crime reduction strategies and sentencing. It will also look into security procedures, prisons and probation services. A broader approach with other protective services will be included.
Entry Requirements
Entry to this course will be specifically for students who are required to re-sit their GCSE Maths and English qualifications.
The study programme will focus on the achievement of English and Maths GCSE, with a Public Service programme supporting the timetable.
You are expected to maintain high standards of discipline, punctuality and attendance. It is essential that you work to the deadlines set or you risk not achieving your programme of study.
Practical sessions are compulsory, so you must be physically able to take part in both indoor and outdoor sessions. You will also be expected to volunteer for work experience opportunities on selected weekends throughout the year.
What will you learn?
The course is made up of a number of units which can include:
GCSE English and Maths
Crime and its effects
Custodial care
Criminology and law
Work placement
It also includes a tutorial session to monitor your progress, set targets, support your main programme of study, help your future progression and enhance your life skills. The completion of your GCSEs will enable you to apply for higher level courses.
Students may also have the opportunity to complete First Aid and Fitness and Physical Activity awards.
Course delivery will be face-to-face teaching, with remote delivery at selected times during the year.
You need to be aware that certain volunteering events and work placements take place at weekends or evenings and you will be expected to attend these. We ask that you understand this expectation before you commit to other activities, as many events depend on your involvement to enable them to run safely and efficiently.
You have to fulfil a minimum of 36 hours of work placement. Many of these hours will be offered to you through our existing partnerships with employers.
How will you learn?
This course will be delivered on-site.
What will you need to bring with you?
You will need to have a uniform that is worn every day and when you are on work experience. The minimum expectation for the uniform is that you wear a plain black top: T-shirt, polo shirt, sweatshirt etc. DCG-branded uniforms can be purchased for £50.
All learners will benefit from having their own tablet or laptop to aid them with their studies.
There may be additional costs incurred for selected trips or visits.
Depending on availability, there may be residential trips linked to your assessments – in such instances, these would not incur additional costs.
How will you be assessed?
You will build a portfolio based around evidence generated by the various assessment methods in each unit. You are expected to work on multiple assessments at any one time. You will be assessed through practical demonstrations, logbooks and performance records, written reports and essays, presentations, workbooks, discussions and vivas.
Maths and English will be assessed through course work, controlled assessment and final exam.
Your attendance will be monitored, with expectations that it is maintained above 95% at all times.
Where next?
Further study
On successful completion, the course provides an excellent platform for progression to programmes such as the:
Level 3 Extended Certificate in Uniformed Protective Services
Level 2 Diploma in Public Services
Careers
You may also wish to seek voluntary or paid employment in the Public Services or security industry or you could apply for the special constabulary or reservist forces. You do not, of course, have to enter the Public Services as the skills gained on this course are transferable to a wider range of job areas.
Who do you contact for more information?
Course Information for Employers
Information for Employers
If you are an employer and would like to know more about the apprenticeships and professional training we deliver or how you can get involved in co-creating and co-delivering the curriculum, please contact us via email on businessenquiries@derby-college.ac.uk, call us on 01332 387 421 or visit our employer pages here.
Career Information
This course could lead to one of these careers...
£0
£0
£0
£0
£0
£0
£0
£0
£0
£0
£0
£0
More Careers Information at: https://www.derby-college.ac.uk/career-pathways
DCG Success Stories
Discover how our students have achieved success. Their hard work and dedication to learning has enabled them to succeed in rewarding careers or progress onto higher education. We encourage progress and aspirational outcomes by guiding people onto learning pathways that lead to positive destinations. Our students have gone on to achieve great things since leaving the College. We would like to share some of their inspiring success stories with you. Get Started...
Use our online application form to apply for this course.
Course Information Last Updated On: September 12, 2023 2:26 pm