IT – Application Developer (Level 3 Introductory Diploma)
The IT technical qualification is designed for young learners between the ages of 16 and 18 who wish to acquire skills and gain access to job roles concerned with software scripting and app development in a variety of sectors. This qualification can be studied at the Joseph Wright Centre alongside other A-level qualifications.
Course Summary
School Leaver - Academic
Location:
Joseph Wright Centre
Full Time or Part Time:
FT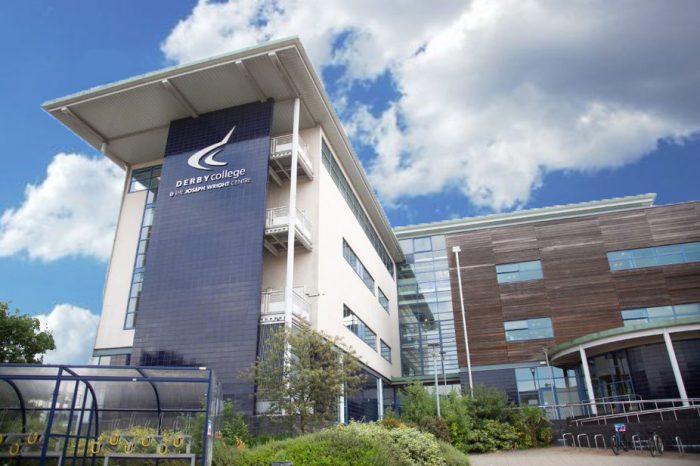 Apply now at: https://www.derby-college.ac.uk/course/it-application-developer-level-3-introductory-diploma
Course Information for Students
Who is this course for?
This IT technical qualification is aimed at 16 to 18-year-old learners who are seeking to develop skills and access a range of junior scripting and app development job roles in a variety of sector settings. This qualification can be studied alongside other A-level qualifications at the Joseph Wright Centre.
On this course you will build on a foundation of programming concepts and study object oriented programming (known as OOP) and event driven programming (EDP). Once these concepts are learned, you will be able to transfer the techniques to different languages. You will also learn about website programming and scripting.
You will be working on industry focused assignments to help you to prepare for work, which will ensure you can talk confidently about your knowledge and skills in an interview situation.
Beginning with the fundamental principles of computing, you will study the different programming constructs, learning about testing, web development, commercial applications, apps and developing solutions for employers or customers.
Entry Requirements
You will need at least five GCSEs at grade 4 or above, including English Language at grade 5 and Maths at grade 4.
A recent school report will be required which demonstrates a committed attitude to learning.
It is assumed that students enrol on a two-year A-level programme of study consisting of three or more subjects. However, students will be expected to demonstrate a committed attitude to learning and make positive progress in their first year of study. To progress to the second year, you will need to demonstrate a Merit grade or above in your first year.
What will you learn?
This qualification is made up of four mandatory units. All units must be successfully completed to achieve the full qualification.
Year 1:
Fundamental principles of computing – external examination
Computer programming – external examination
Year 2:
Website technologies – internally centre assessed
Mobile applications programming – internally centre assessed
How will you learn?
This course will be delivered on-site at the Joseph Wright Centre.
What will you need to bring with you?
How will you be assessed?
In the first year, assessment is 100% via examination in both units. Examinations can be taken both in January and June.
In the second year, the assessment is 100% internally assessed. Learners can resit their first year exams both in January and June.
Where next?
You can progress to higher education or commence employment. Examples of job opportunities within the IT sector include junior programmer, analyst-programmer, games programmer and software engineer.
Companies that might employ someone with this qualification include software houses and those specialising in web, app and games development. Some learners may choose to work for themselves.
Who do you contact for more information?
For more information contact Derby College on 0800 0280289 or enquiries@derby-college.ac.uk
Course Information for Employers
Information for Employers
If you are an employer and would like to know more about the apprenticeships and professional training we deliver or how you can get involved in co-creating and co-delivering curriculum, please contact us via email on businessenquiries@derby-college.ac.uk, call us on 01332 387 421 or visit our employer pages here.
Career Information
This course could lead to one of these careers...
Information Technology and Telecommunications Professionals n.e.c.
£32187
Information Technology and Telecommunications Directors
£67780
IT Business Analysts, Architects and Systems Designers
£40177
IT Operations Technicians
£24667
IT User Support Technicians
£28992
IT Specialist Managers
£41773
More Careers Information at: https://www.derby-college.ac.uk/career-pathways
DCG Success Stories
Discover how our students have achieved success. Their hard work and dedication to learning has enabled them to succeed in rewarding careers or progress onto higher education. We encourage progress and aspirational outcomes by guiding people onto learning pathways that lead to positive destinations. Our students have gone on to achieve great things since leaving the College. We would like to share some of their inspiring success stories with you. Get Started...
Use our online application form to apply for this course.
Course Information Last Updated On: October 18, 2021 1:50 pm