Introduction to Construction Skills (Multi-Trade)
This programme is designed to give you an insight into some of the trades within construction and will allow you to develop skills in at least three different trade areas.
Course Summary
Subject Area:
Construction - Brickwork
School Leaver - Vocational/Technical
Location:
Hudson Building
Full Time or Part Time:
FT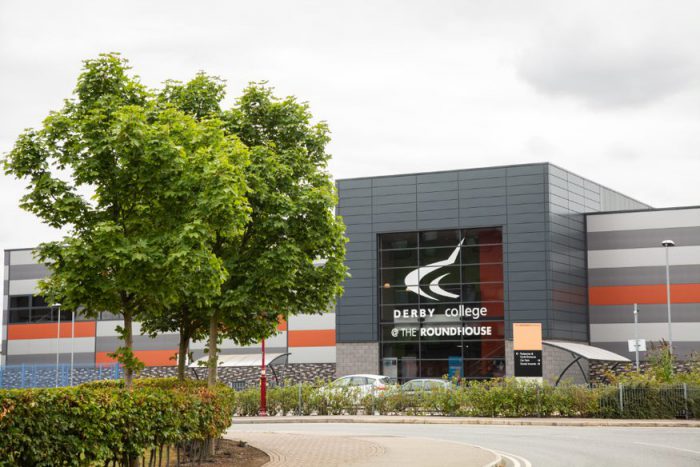 Apply now at: https://www.derby-college.ac.uk/course/introduction-to-construction-skills-multi-trade
Course Information for Students
Who is this course for?
If you are unsure about which construction trade you would like to pursue – or would like to work towards more than one trade with a view to specialising later – this is the course for you.
You will develop skills and knowledge in your chosen trades while further developing your maths and English skills.
Entry Requirements
GCSE grade 1 (or equivalent) or higher in Mathematics
GCSE grade 1 (or equivalent) or higher in English
Lower grades may be considered. However, an initial assessment will be required prior to your full acceptance on the course.
You will also be required to complete an interview with a member of the construction team.
What will you learn?
This is an introductory level course covering aspects of multiple trades. You will cover some or all of the following:
Knowledge of the construction industry:
Bricklaying
· Health and safety specific to bricklaying
· Basic bricklaying skills and knowledge
Carpentry and Joinery
· Health and safety specific to carpentry and joinery
· Basic carpentry and joinery skills and knowledge
Plastering
· Health and safety specific to plastering
· Basic plastering skills and knowledge
Painting and Decorating
· Health and safety specific to painting and decorating
· Basic painting and decorating skills and knowledge
Plumbing
· Health and safety specific to plumbing
· Basic plumbing skills and knowledge
Maths
· You will continue to study maths in order to improve your current grade and better prepare you for your chosen trade.
English
· You will continue to study English in order to improve your current grade and better prepare you for your chosen trade.
Tutorial
· You will meet with your tutor on a regular basis and will cover topics that are beneficial to making you more employable. You will also have the benefit of receiving 1-1 sessions designed to guide you towards the highest achievement possible.
Character education
· These sessions are designed to further develop you as a citizen in society and to better prepare you for the world of work, not just as an employee but also as a potential self-employed person.
Work experience
· You will be expected to complete a minimum number of work experience hours.
Please note that you will cover a minimum of three of these trades but will not cover them all.
How will you learn?
You will learn on-site, in the classroom and in the practical workshop. There may be some requirement to complete work online, but this will be kept to a minimum. This is primarily a practical subject, meaning you will be kept quite active while on the course.
What will you need to bring with you?
You will need to supply your own basic stationery, notebook, padlock, safety footwear, work trousers and safety glasses.
You will be required to purchase and wear a uniform while on the course. This can be ordered at your course induction or details can be provided.
How will you be assessed?
You will be assessed in a number of ways both in the classroom and in the workshop. As well as providing your completed work, you will:
Prepare a portfolio of ongoing training and assessment in both practical and theory work, which will be graded for quality and content
Sit GCSE exams
Complete a final project which will be assessed
Where next?
On successfully completing this course, you will be able to apply for one of our full-time trade courses (Note that this will be subject to the entry requirements for each course.)
You may also want to pursue an apprenticeship, in which case you can apply to employers for a placement.
Who do you contact for more information?
For more information, contact Derby College Group on 0800 0280289 or enquiries@derby-college.ac.uk
Course Information for Employers
Information for Employers
If you are an employer and would like to know more about the apprenticeships and professional training we deliver or how you can get involved in co-creating and co-delivering the curriculum, please contact us via email on businessenquiries@derby-college.ac.uk, call us on 01332 387 421 or visit our employer pages here.
Career Information
This course could lead to one of these careers...
Painters and Decorators
£21983
Carpenters and Joiners
£27502
Bricklayers and Masons
£28514
Elementary Construction Occupations
£23809
Plasterers
£23671
Other Skilled Trades
£27355
Plumbers and Heating and Ventilating Engineers
£32689
Construction and Building Trades
£29003
More Careers Information at: https://www.derby-college.ac.uk/career-pathways
DCG Success Stories
Discover how our students have achieved success. Their hard work and dedication to learning has enabled them to succeed in rewarding careers or progress onto higher education. We encourage progress and aspirational outcomes by guiding people onto learning pathways that lead to positive destinations. Our students have gone on to achieve great things since leaving the College. We would like to share some of their inspiring success stories with you. Get Started...
Use our online application form to apply for this course.
Course Information Last Updated On: March 31, 2023 8:35 am