Intermediate Award in Art and Design
This programme is designed to prepare you for a Level 3 course in arts, design, technology or related areas.
Course Summary
Subject Area:
Art and Design
School Leaver - Vocational/Technical
Location:
Joseph Wright Centre
Full Time or Part Time:
FT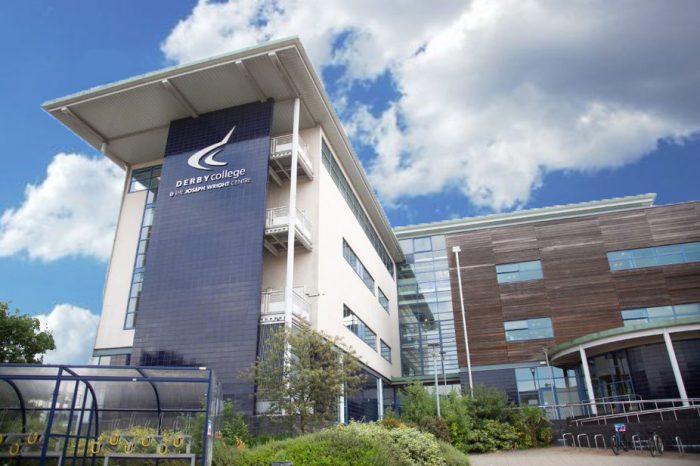 Apply now at: https://www.derby-college.ac.uk/course/intermediate-award-in-art-and-design
Course Information for Students
Who is this course for?
This programme is designed to prepare you for a Level 3 course in arts, design, technology or related areas.
It will also enable you to achieve GCSE English and/or Maths to grade C/4.
The course has an active live brief/work-placement programme in arts, design and related areas and it will develop your independent learning and transferable skills.
Entry Requirements
You will need four GCSEs at grade D/3 or you could be someone who has grade C/4 and above in several subjects, but have not yet achieved GCSE English and/or Maths at C/4.
You might have a Level 1 qualification in Art and Design.
All candidates must have a successful interview and show a portfolio to gain a place.
What will you learn?
The course encourages you to take your own artistic direction and the final outcome is in an area of your choice.
A lot of activities are based around visual and physical problem solving. The course will challenge you in the development of the formal elements of visual language, such as line, tone, plane and colour, to name but a few.
You will learn about technical processes, new materials, methods and techniques, then use your creative freedom to produce exciting artwork in areas of your own personal interest.
You will develop into an effective independent learner, able to manage yourself, your learning, your research and your artwork. You are expected to experiment, practise and make valuable mistakes to learn from.
Direct observed drawing from the real world (not pictures) provides a large part of the content and you will be expected to carry out life drawing – ie drawing from the human body.
You will carry out a range of two-dimensional activities/assignments including photographic recording and creative development, painting and graphics, alongside a range of three-dimensional activities/assignments in wood, metal and clay etc.
There will also be other specialist activities and use of materials, some of which may be very experimental. Upcycling and sustainable materials are forming an important part of the course.
You are expected to carry out contextual research relevant to the areas you are studying.
Some technical elements of the course will ask you to apply and use maths, such as measurement, ratio and proportion, and develop your English comprehension and critical writing skills.
How will you learn?
This course will be delivered on-site.
What will you need to bring with you?
The course requires a studio fee of £25.00. This also provides you with a sketchbook and a basic tool kit. You will be expected to buy materials/tools to replace or improve your kit. There will be money required for trips.
How will you be assessed?
The Award is assessed at the end of each unit and there are two units for the Award.
Your work will, however, be under constant assessment and direct feedback will be given to you in discussions and on assessment feedback sheets and action plans.
Each unit is assessed when it is completed, and it is at this point that you will get your grade.
Where next?
The course is designed to prepare you to advance to Level 3 in Arts, Design, Technology or a related area.
Who do you contact for more information?
For more information contact Derby College on 0800 0280289 or enquiries@derby-college.ac.uk
Course Information for Employers
Information for Employers
If you are an employer and would like to know more about the apprenticeships and professional training we deliver or how you can get involved in co-creating and co-delivering curriculum, please contact us via email on businessenquiries@derby-college.ac.uk, call us on 01332 387 421 or visit our employer pages here.
Career Information
This course could lead to one of these careers...
£0
£0
More Careers Information at: https://www.derby-college.ac.uk/career-pathways
DCG Success Stories
Discover how our students have achieved success. Their hard work and dedication to learning has enabled them to succeed in rewarding careers or progress onto higher education. We encourage progress and aspirational outcomes by guiding people onto learning pathways that lead to positive destinations. Our students have gone on to achieve great things since leaving the College. We would like to share some of their inspiring success stories with you. Get Started...
Use our online application form to apply for this course.
Course Information Last Updated On: September 12, 2023 2:29 pm