GCSE Maths – Adults
This free course is for adults wanting to achieve a grade 4/C GCSE to progress in employment or gain access to another course. It will bring your level of maths up to a standard expected by most employers. Some students take this course to help their children with maths.
Course Summary
Subject Area:
Adult English, Maths and Science
Adult and Community
Location:
Joseph Wright Centre
Full Time or Part Time:
PT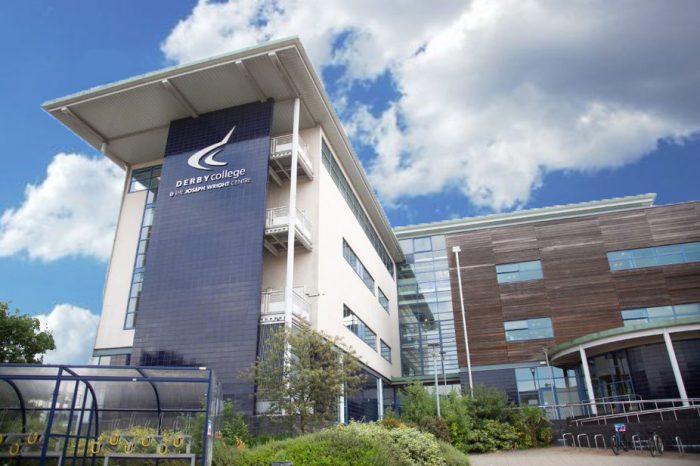 Apply now at: https://www.derby-college.ac.uk/course/gcse-maths-adults
Course Information for Students
Who is this course for?
These classes are aimed at students aged 19+ who are seeking to achieve a grade 4/C GCSE in order to progress in their job or to gain access to another course.
This is a Foundation Tier course which will bring your level of maths up to a standard expected by most employers. Some students take this course so that they can help their children with their maths.
This course is free (unless you already possess the equivalent of a pass grade 4 or above in the subject, in which case fees will be £724).
Entry Requirements
All potential students will be invited for interview with our friendly team and will complete an initial assessment to check their suitability for the course.
Please allow up to 90 minutes to complete your assessment and enrolment. If appropriate, we may discuss suitable alternatives such as a Functional Skills course to improve your underpinning knowledge prior to studying for your GCSE.
You will also need to maintain a good level of attendance throughout the course.
What will you learn?
You will cover work on number, shape, space and measure, geometry, algebra, probability, and statistics. You will also develop skills in problem-solving and in recording your work in a clear and logical way.
You will get the chance to apply these maths skills in a wide variety of situations and will gain experience in using maths when making decisions and in explaining the reasons behind those decisions.
You will need to allow weekly time for homework tasks on this course and you will sit exam papers in May and June.
How will you learn?
This course will be delivered on-site.
What will you need to bring with you?
You need a scientific calculator (we recommend a Casio fx83 or fx85 though others are available) and geometrical drawing instruments (protractor and compasses).
You should also have pen and paper for taking notes and you may wish to purchase relevant textbooks to supplement your learning: your tutor will recommend these.
How will you be assessed?
There are two examinations at the end of the course. One is a non-calculator exam and the other is a calculator exam.
There is no coursework for GCSE Maths but assessment of your progress is made throughout the year by your lecturer.
You will be given homework regularly in addition to the work completed in class.
Where next?
A grade 4/C in GCSE Maths is often a requirement for many courses and careers.

The qualification may help you to move on to other courses such as programmes within higher education.
Who do you contact for more information?
For a confidential chat about your own learning needs, please contact the Adult English and Maths Team on 01332 387465.
Course Information for Employers
Information for Employers
If you are an employer and would like to know more about the apprenticeships and professional training we deliver or how you can get involved in co-creating and co-delivering the curriculum, please contact us via email on businessenquiries@derby-college.ac.uk, call us on 01332 387 421 or visit our employer pages here.
Career Information
Sorry - no lmi data
More Careers Information at: https://www.derby-college.ac.uk/career-pathways
DCG Success Stories
Discover how our students have achieved success. Their hard work and dedication to learning has enabled them to succeed in rewarding careers or progress onto higher education. We encourage progress and aspirational outcomes by guiding people onto learning pathways that lead to positive destinations. Our students have gone on to achieve great things since leaving the College. We would like to share some of their inspiring success stories with you. Get Started...
Use our online application form to apply for this course.
Course Information Last Updated On: January 31, 2023 2:12 pm