Foundation Degree in Animal Management (FdSc) (Part-time) – 4 years
If you have a real passion for working with animals, you will discover a wide choice of occupations in the thriving and varied animal management sector. This course gives you a solid introduction to all aspects of animal management to prepare you for a highly successful career.
Course Summary
Subject Area:
Animal Care
Higher Education
Location:
Broomfield Hall
Full Time or Part Time:
PT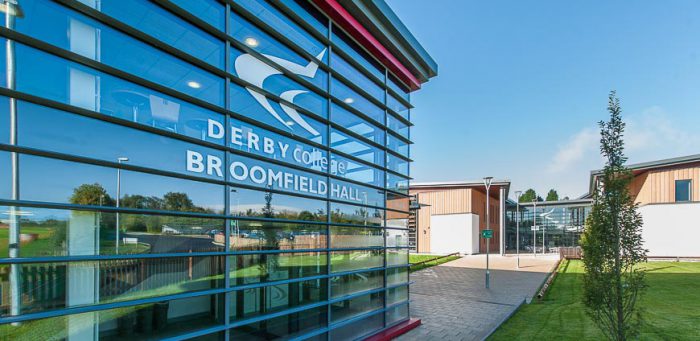 Apply now at: https://www.derby-college.ac.uk/course/foundation-degree-in-animal-management-fdsc-part-time-4-years
Course Information for Students
Who is this course for?
If you have a real passion for working with animals, you will discover a wide choice of occupations in the thriving and varied animal management sector. This course gives you a solid introduction to all aspects of animal management to prepare you for a highly successful career.
Our foundation degree course has been designed to give you the right aptitude and attitude to work within the animal management sector. You will develop your hands-on skills and theoretical knowledge through a fascinating range of academic study, practical classes and industrial visits.
This four-year course consists of 12 modules designed to reflect the diverse nature of animal management. These will be delivered through engaging lectures and practical studies in our laboratories and on-site animal unit. Your learning will be enhanced through field trips to enable you to apply theory to practice.
You will also take part in relevant work-based learning equivalent to one day per week. Support in identifying appropriate work placement opportunities will be provided.
Your learning will be supported by our highly qualified teaching team who have a wealth of academic and professional experience in many specialist areas. Guest speakers will ensure that you receive the most up-to-date professional experience and knowledge.
Delivered at our Broomfield Hall Campus, the part time route* includes eight hours of taught material each week with a minimum of eight hours of expected self-study per week.
(*This course can also be studied full time.)
The course is regulated by OfS and the qualification is awarded by the University of Derby.
All students have access to the UDO online platform, the Derby College Learning Resources Centre, the University of Derby library, and the College's Moodle pages.
The programme will run with a minimum of six students. In 2021-22 we enrolled 12 students on this programme.
The core higher education academic year will be for a duration of 33 (thirty three) weeks for the purposes of maintenance loans. You will receive a proportion of this time as direct delivery, with any additional time – as deemed appropriate by the programme team and the awarding body – for activities such as induction, tutorials, research, directed study, reading weeks etc. The direct delivery time for this course will be 26 weeks.
Entry Requirements
All applicants will be invited to an interview to discuss their qualifications, experience and any other related issues.
You should have one of the following:
64 UCAS points – in a relevant subject area
You will also need four GCSEs at grades 9-4 (A*-C), or the equivalent, to include English, Maths and Science.
We also welcome applicants who lack institutional qualifications. All such applicants will be interviewed and may be set an appropriate piece of work upon which a judgement will be made, taking into account their academic potential and relevant experience.
You will need to be aged 18 or over at the beginning of the course.
All applicants are subject to approval from the University of Derby.
What will you learn?
Year 1 Modules:
Principles of Animal Husbandry (20 credits)
The primary aim of this module is to give students the underpinning knowledge required to undertake practical animal husbandry tasks competently and confidently. A range of species will be utilised in this predominantly practical module.
Principles of Animal Science (20 credits)
An understanding of how biological systems work is an essential part of students' exploration of the animals with which they will be working. This basic knowledge will enable students to correctly interpret biological evidence in order to make sound scientific decisions about the management of animals.
Introduction to Animal Health and Welfare (20 credits)
This module aims to develop an understanding of animal welfare science with an emphasis on the importance of animal health. The roles of disease and disease prevention will be explored. Students will have the opportunity to create and implement a welfare assessment in order to evaluate the suitability of management strategies and suggest improvements.
Introduction to Animal Anatomy and Physiology (20 credits)
A detailed understanding of the structure, function and homeostatic mechanisms of the animal body will enable students to apply an understanding of environmental requirements and carry out the effective monitoring of animal health and successful animal management. In this module, students will develop an understanding of the structure and function of animal organ systems, animal support and movement, and the homeostatic mechanisms required to maintain animal health.
Introduction to Work Experience in the Animal Management Sector (20 credits)
Throughout this module, students will have the opportunity to negotiate and perform activities which will enable them to achieve work-related understanding and skills while being supported by their work placement supervisors and module supervisor. Students will produce evidence of carrying out different activities and will recognise the scope of what they have achieved by regularly reflecting on their performance.
Essential Study Skills for Lifelong Learning (0 credits)
This module will introduce students to the study skills required to be successful in higher education. They will be advised on a range of strategies to manage their own time and how to carry out independent learning.
Year 2 Modules:
Applied Animal Nutrition (20 credits)
This module aims to develop students' understanding of the nutritional requirements of a variety of species and factors which need to be taken into consideration when designing feeding regimes. An understanding of the chemical composition of nutrients will be required as well as an appreciation of techniques used to analyse animal feed.
Natural History of Exotic Mammals (20 credits)
This module aims to develop students' understanding of the natural history and anatomy of exotic mammalian species, with an emphasis on morphological and physiological adaptations and characteristics which enable them to thrive within their natural habitats and the implications this has for their husbandry in a captive environment.
Planning and Managing Animal Breeding Programmes (20 credits)
Students will consider the key concepts of planning and managing breeding courses, as well as gaining an in-depth understanding of the principles of heredity, and the application of advanced breeding technologies, including genetic manipulation techniques.
Ethology of Domestic and Captive Animals (20 credits)
When working with domestic animals, it is essential to have a firm understanding of the biological basis of their behaviours. This module will provide the student with the historical background to ethology and the genetics and evolution of behaviour, including the process of domestication. It will also address the biological control of behaviour and the implications of this for animal welfare.
Continuing Work Experience in the Animal Management Sector (20 credits)
This module develops the skills learnt in the first year work experience module. It will allow students to reflect on the work they have already carried out and identify areas where further development is required. While doing this, they will reflect on their own practice and complete a professional development plan (PDP). To support this, students will be guided on how to plan for their career, hear from a range of visiting speakers and explore the role professional bodies can play in supporting their career development.
Research Methods and Scientific Communication (20 credits)
This unit will enhance students' understanding and use of the methodologies employed when carrying out research. It will develop students' knowledge of the range of information sources and will equip them with the skills to plan, conduct, interpret and present data from research projects, supported by statistical analysis. By completing this module, students will gain vital preparation to assist them in undertaking their own research in their future studies or careers.
How will you learn?
This course will be delivered on-site.
What will you need to bring with you?
You are required to meet the entrance costs to various visitor attractions, such as zoos, to support your studies. These would need to be paid at the time of the event. The anticipated costs will be approximately £25 in Year 1 and £40 in Year 2.
You will be required to purchase a Derby College Group polo shirt for practicals, plus a lab coat and steel toe cap boots (circa £75).
How will you be assessed?
While on the course, you will be assessed using a variety of methods, including assignments, practical work, reports, group presentations and poster presentations. All assessment methods have been designed to focus on skills specific to the industry while incorporating key transferable skills.
Where next?
Upon successful completion of this four-year course, you will be equipped with the knowledge and skills to pursue a new career or advance an existing one in a wide variety of animal management fields.
The course will provide excellent practical skills, enabling you to develop necessary industrial experience with a wide variety of animal species.
This course also provides an ideal platform to top-up to a Level 6 (degree) course specialising in a wide variety of subjects such as Human-Animal Interactions and Animal Training. In addition, you will study Recent Developments in Welfare Science and Business Enterprise.
This qualification is awarded by the University of Derby.
www.derby.ac.uk
Who do you contact for more information?
For more information, contact Derby College Group on 0800 0280289 or enquiries@derby-college.ac.uk
Disclaimer
Course Information for Employers
Information for Employers
If you are an employer and would like to know more about the apprenticeships and professional training we deliver or how you can get involved in co-creating and co-delivering the curriculum, please contact us via email on businessenquiries@derby-college.ac.uk, call us on 01332 387 421 or visit our employer pages here.
Career Information
This course could lead to one of these careers...
£0
£0
More Careers Information at: https://www.derby-college.ac.uk/career-pathways
DCG Success Stories
Discover how our students have achieved success. Their hard work and dedication to learning has enabled them to succeed in rewarding careers or progress onto higher education. We encourage progress and aspirational outcomes by guiding people onto learning pathways that lead to positive destinations. Our students have gone on to achieve great things since leaving the College. We would like to share some of their inspiring success stories with you. Get Started...
Use our online application form to apply for this course.
Course Information Last Updated On: August 21, 2023 3:47 pm