Foundation Degree Equine Science, Management and Training (FdSc) (Part-time) – 4 years
This four-year course is specifically designed to combine the development of your academic knowledge and understanding with relevant vocational skills and competencies.
Course Summary
Higher Education
Location:
Broomfield Hall
Full Time or Part Time:
PT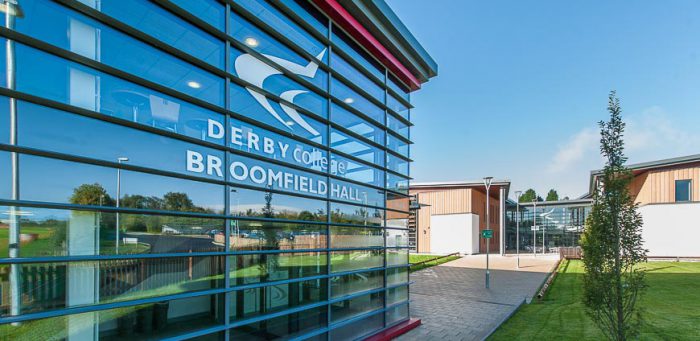 Apply now at: https://www.derby-college.ac.uk/course/foundation-degree-equine-science-management-and-training-fdsc-part-time-4-years
Course Information for Students
Who is this course for?
This four-year course is specifically designed to combine the development of your academic knowledge and understanding with relevant vocational skills and competencies.
Through active participation in the course, you will have the opportunity to develop an understanding of current equine scientific knowledge and its application to the practical environment. You will also develop an awareness of event management and marketing techniques, including social media strategies, in order to promote entrepreneurship and business growth.
This modular programme offers both riding and non-riding options. It will be delivered through engaging lectures and practical studies in our laboratories and on-site equestrian centre and through work-based learning, equivalent to one day per week on placement. This will be enhanced through field trips (mandatory and voluntary) to enable you to apply theory to practice.
Your learning will be supported by our highly qualified teaching team who have a wealth of academic and professional experience in many specialist areas. Guest speakers will also ensure that you receive the most up-to-date professional experience and knowledge.
Delivered at the Derby College Group Broomfield Hall Campus, the programme includes eight hours of taught material each week with a minimum of eight hours of expected self-study per week. The course offers both riding and non-riding options.
Upon completion, you will achieve a Foundation Degree from the University of Derby.
This course is regulated by OfS and the qualification is awarded by the University of Derby.
All students benefit from access to the UDO online platform, the Derby College Learning Resources Centre, the University of Derby library, and the College's Moodle pages.
The programme will run with a minimum of six students. In 2021-22 we enrolled nine students on this programme.
The core higher education academic year will be for a duration of 33 (thirty three) weeks for the purposes of maintenance loans. You will receive a proportion of this time as direct delivery, with any additional time – as deemed appropriate by the programme team and the awarding body – for activities such as induction, tutorials, research, directed study, reading weeks etc. The direct delivery time for this course will be 26 weeks.
Entry Requirements
All applicants will be invited to an interview to discuss their qualifications, experience and any other related issues.
You should have one of the following:
64 UCAS points – from either an Extended Diploma or National Diploma in Equine Management
At least two A-levels or AS-levels in a science-related subject
A GNVQ/NVQ Level 3 in an equine-related subject
Relevant and comprehensive industry experience will also be considered.
You will also need four GCSEs at grades 9-4 (A*-C), or the equivalent, to include English, Maths and Science.
You will have a riding assessment prior to commencement of the programme if you choose the riding option. It is desirable that you are riding towards BHS Stage 1 or equivalent and working towards BHS Stage 2 or equivalent. There is a 13 stone weight limit.
BHS qualifications would be advantageous but not essential.
We also welcome suitably experienced applicants who may lack institutional qualifications. All such applicants will be interviewed and may be set an appropriate piece of work upon which a judgement will be made, taking into account their academic potential and relevant experience.
You will need to be aged 18 or over at the beginning of the course.
All applicants are subject to approval from the University of Derby.
What will you learn?
Modules:
Stage 1
Induction Module
Animal Biology
Study Skills
Equine Anatomy and Physiology
Equine Nutrition
Yard Management
Riding and Training Horses 1 (optional)
Equine Behaviour and Learning Theory (optional)
Stage 2
Equine Health and Welfare
Equine Disease and Disorders
Equestrian Event Management
Riding and Training Horses 2 (optional)
Employability for the Equestrian Industry
Equine Rehabilitation and Therapy (optional)
How will you learn?
This course will be delivered on-site.
What will you need to bring with you?
You will need to purchase personal protective equipment (PPE) for practical work at a cost of approximately £100. You will also need to contribute towards any industry-relevant trips and visits throughout the course, which will cost approximately £150. These will be payable at the time of the planned trip or visit.
Optional costs include:
British Horse Society membership in preparation for industry qualifications, which will be offered alongside the Foundation Degree.
British Horse Society exams:
BHS Gold Membership – £69/year

BHS Stage 1 – complete £295 (including Ride Safe)
BHS Stage 2 – complete £500 (including Stage 2 Teach)
BHS Stage 3 – complete £630 (including Stage 3 Teach)
How will you be assessed?
You will be assessed using a variety of methods including: assignments, practical work, reports, group presentations and poster presentations.
All assessment methods have been designed to focus on skills specific to the industry while incorporating key transferable skills.
Where next?
Upon successful completion of this four-year programme, you will be equipped with the knowledge and skills to pursue a new career or advance an existing one in a wide variety of equestrian businesses, including self-employment.
The programme will provide excellent practical skills, enabling you to develop necessary industrial experience in a range of contexts.
The Foundation Degree also provides an ideal platform to top-up to a Level 6 (degree) programme specialising in a wide variety of subjects such as Equine Exercise and Physiology, and Training and Developing Horses.
This qualification is awarded by the University of Derby.
www.derby.ac.uk
Who do you contact for more information?
For more information, contact Derby College Group on 0800 0280289 or enquiries@derby-college.ac.uk
Disclaimer
Course Information for Employers
Information for Employers
If you are an employer and would like to know more about the apprenticeships and professional training we deliver or how you can get involved in co-creating and co-delivering the curriculum, please contact us via email on businessenquiries@derby-college.ac.uk, call us on 01332 387 421 or visit our employer pages here.
Career Information
This course could lead to one of these careers...
£0
More Careers Information at: https://www.derby-college.ac.uk/career-pathways
DCG Success Stories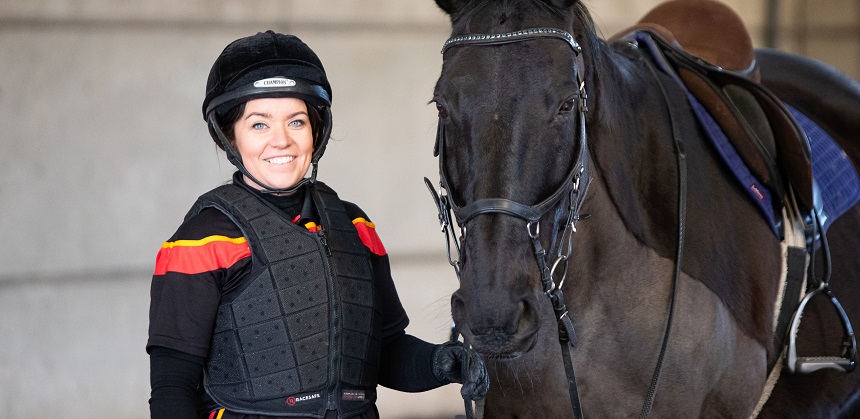 Emma Whay
Broomfield's flexibility enables Emma to train for new equine career
It was through going to Broomfield with him that I saw how lovely the equine facilities were and how well run everything was. So, I decided to contact Derby College about equine courses but was concerned that not being able to commit to five days a week on site, and not having had an academic education, might limit my options. I needn't have worried though. The staff were so supportive and some of my studying can be flexible. Get Started...
Use our online application form to apply for this course.
Course Information Last Updated On: August 21, 2023 3:49 pm