Charlie Woodcock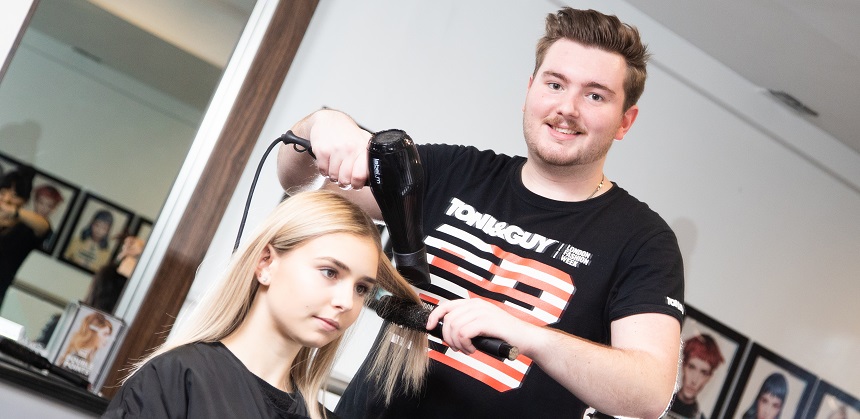 Study Type: School Leaver Vocational
Study Location: The Roundhouse
Subject Studied: Hair

Charlie lands dream hairdressing apprenticeship with Toni & Guy
Former Derby College Group student, Charlie Woodcock, is glad he followed his dream of becoming a hairdresser.
Charlie, who is 18 and from Darley Abbey, has recently got himself an apprenticeship with Toni & Guy's Derby salon.
After completing the full-time level 2 in women's hairdressing at the Roundhouse – a course Charlie described as "brilliant" – he decided to look for a job.
So, acting on his own initiative, he printed off his CV and left copies with salons all around the city.
Toni & Guy liked what they saw, and after informally interviewing him and sending him on the company's trial day, he was taken on as an apprentice at the Market Place salon.
Charlie said: "What I learned at college is really helping me. On my third day at work, for example, I was shown how to wash hair the Toni & Guy way, which is a little bit different, but similar enough, to the way we were taught at college."
Jessica Lopes, assistant manager at Toni & Guy, said Charlie had made a good start to his new career.
She said: "We were impressed with Charlie's determination to get a job in hairdressing. He showed a lot of initiative, visiting local salons with his CV."
Before taking his hairdressing course, Charlie had worked as a joiner, but was miserable in his work, so decided to change direction.
He added: "My plan now is to dedicate the next 10 years to this profession, so that I eat, sleep and breathe hairdressing, and one day I'll have my own salon."
And Charlie discovered recently that he's carrying on a family tradition. His gran used to be a hairdresser and she also served as an apprentice at a salon in Derby.
My experience of the Derby College hairdressing course was extremely good. The main reason for saying that is my tutor Rhiannon. She was brilliant – in fact all my tutors were great – very supportive. They were always approachable and happy to answer any questions.