Textiles (A-level)
Through this A-level course, learners will be able to explore, research, acquire techniques, and develop their skills, knowledge, and understanding of Textiles
Course Summary
School Leaver - Academic
Location:
Joseph Wright Centre
Full Time or Part Time:
FT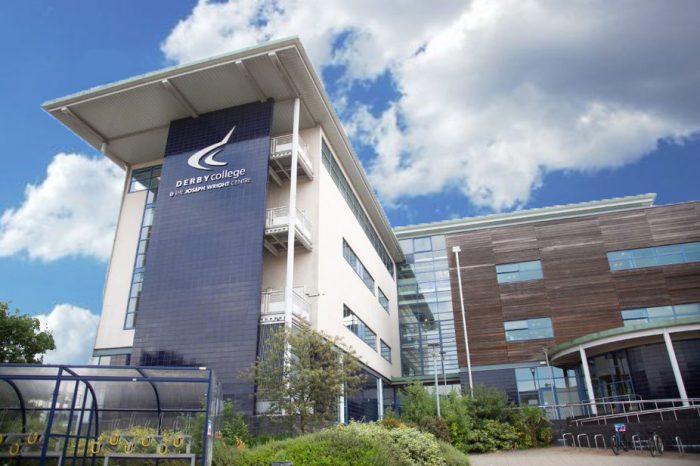 Apply now at: https://www.derby-college.ac.uk/course/textiles-a-level
Course Information for Students
Who is this course for?
This A-level course will enable learners to explore, research and acquire techniques and develop their skills, knowledge and understanding of Textiles. The course provides a thorough and rewarding study of Textiles, exploring traditional methods and contemporary techniques, through extensive practical and theoretical/historical elements, with the discipline of drawing at its core.
Learners are required to work in one or more area(s) of Textiles, such as garments/fashion, accessories, soft furnishings, printed and/or dyed textiles, constructed textiles, textile installation, expressive textiles, and digital textiles. Combinations of these areas are also possible.
Textiles students are expected to demonstrate specialisation with materials, media or processes to allow for an appropriate depth of study within set projects. Possible Textile processes include fabric printing, mono-printing, relief printing, screen printing, tie-dye, batik, spraying, transfer, fabric construction, stitching, appliqué, patchwork, padding, quilting, embroidery, weaving, knitting, felting and mixed-media applications.
Entry Requirements
You will need at least five GCSEs at grade 4 or above, including English Language at grade 5 and Maths at grade 4.
In addition, you should have GCSE Design Technology, Art and Design or a similar creative subject at grade 5 or above.
A small portfolio of your work will be required. You will be expected to demonstrate a keen interest in art and design and to have good awareness of contemporary trends in the discipline.
A recent school report will be required which demonstrates a committed attitude to learning.
It is assumed that students enrol on a two-year A-level programme of study consisting of three or more subjects. However, students will be expected to demonstrate a committed attitude to learning and make positive progress in their first year of study.
What will you learn?
The Advanced GCE in Textiles consists of two components, both teacher assessed and externally moderated.
Component 01: Personal Investigation
There are two distinct elements:
A practical portfolio with supporting contextual research in response to a set theme. The portfolio may be presented in a format appropriate to the specialism and area of study chosen
A related study using words and illustrations demonstrating the context in which the student's portfolio exists, exploring the relevant genre, subject matter, movement or historical framework of the selected theme
Component 02: Externally Set Task
Students can choose a starting point from any of the seven given themes for which they will generate an appropriate personal response for assessment. They will carry out preparatory work to research, plan and develop their ideas, before engaging in 15 hours of supervised time to complete their work.
How will you learn?
This course will be delivered on-site at the Joseph Wright Centre.
What will you need to bring with you?
A small studio fee of £25 will be required for this subject. This covers the cost of essential course materials and resources. However, if you wish to explore additional specialist materials or non-traditional materials that are not covered within the course, you will be responsible for sourcing and providing such materials. You will also need to contribute towards compulsory visits to London – or other – galleries to undertake essential research.
How will you be assessed?
Work is continually assessed, and you will discuss and evaluate your own work.
Component 1: Personal Investigation: internally set, assessed by the teacher and externally moderated – 60% of the total qualification
Component 2: Externally Set Assignment: externally set, assessed by the teacher and externally moderated – 40% of the total qualification
Where next?
Following successful completion of this Advanced Level course, it is expected that learners will have achieved the in-depth knowledge, understanding and skills in Textiles that will aid their progression to foundation and degree-related study.
Who do you contact for more information?
For more information contact Derby College on 0800 0280289 or enquiries@derby-college.ac.uk
Course Information for Employers
Information for Employers
If you are an employer and would like to know more about the apprenticeships and professional training we deliver or how you can get involved in co-creating and co-delivering curriculum, please contact us via email on businessenquiries@derby-college.ac.uk, call us on 01332 387 421 or visit our employer pages here.
Career Information
This course could lead to one of these careers...
Textiles, Garments and Related Trades n.e.c.
£23170
Sewing Machinists
£17020
Textile Process Operatives
£22320
Product, Clothing and Related Designers
£29839
Weavers and Knitters
£24125
More Careers Information at: https://www.derby-college.ac.uk/career-pathways
DCG Success Stories
Discover how our students have achieved success. Their hard work and dedication to learning has enabled them to succeed in rewarding careers or progress onto higher education. We encourage progress and aspirational outcomes by guiding people onto learning pathways that lead to positive destinations. Our students have gone on to achieve great things since leaving the College. We would like to share some of their inspiring success stories with you. Get Started...
Use our online application form to apply for this course.
Course Information Last Updated On: October 18, 2021 1:51 pm