Schools 14-16 – City & Guilds Level 2 Diploma in Horse Care (Equine Studies)
Applications for the Pre-16 Provision open in February 2022. Please do not apply for this course if you will be 16 or older in September 2022. This course is part of our Pre-16 Provision and is only accessible if your school has agreed to fund the placement during Year 10 and 11.
Course Summary
Services to Schools
Location:
Broomfield Hall
Full Time or Part Time:
PT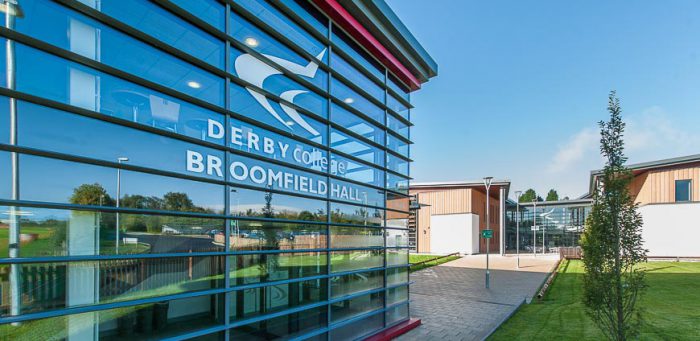 Apply now at: https://www.derby-college.ac.uk/course/schools-14-16-city-guilds-level-2-diploma-in-horse-care-equine-studies
Course Information for Students
Who is this course for?
The City & Guilds Level 2 Diploma in Horse Care (500/8771/X) has been developed to provide an engaging introduction to the equine industry, a valuable sector which contributes around £8 billion a year to the economy.
Students will have the opportunity to learn the technical knowledge and skills sought after by the industry at our Equestrian Centre which is equipped with a purpose-built indoor arena, an all-weather outdoor school, a cross-country schooling field and off-road riding tracks around the beautiful Broomfield estate.
This course is delivered over two years, starting in Year 10, and students will study at Broomfield Hall one day a week.
There are two available pathways within this qualification: a riding pathway and a lunging pathway. For students wishing to undertake the riding pathway, we operate a personal weight restriction of no more than 13 stone (82.5kg) to ensure the welfare of our horses. Students must also be able to walk, trot and canter independent of the rein – this will be assessed at the start of the term to ensure the riding pathway is suitable.
Entry Requirements
There are no formal entry requirements: you just need a strong interest in caring for horses and adequate experience of working with or riding horses.
What will you learn?
You will need to complete four mandatory units:
Undertake work-related experience in the land-based industries
Carry out and understand the principles of feeding and watering horses
Undertake routine stable duties
Undertake horse handling
You will also need to complete three optional units plus the units relevant to the pathway you are undertaking:
Fit and maintain horse tack and clothing
Undertake horse grooming, trimming and plaiting
Understand the principles of horse biology
Introduction to riding horses on the flat (riding pathway)
Riding horses over fences (riding pathway)
Introduction to lunging horses (lunging pathway)
How will you learn?
What will you need to bring with you?
Students must supply their own equipment and Derby College Group uniform (this will be discussed at interview). You will also be required to supply your own writing materials and folders to store work in.
How will you be assessed?
The course is assessed using a range of methods both practical and theoretical: verbal discussions, demonstrations, written reports and presentations. You will be required to build a portfolio of evidence of your practical skills, knowledge and understanding.
Where next?
Further Study
Upon completion of the qualification, and depending on the grades achieved and other qualifications gained, students may wish to progress to:
The Level 3 Diploma in Equine Management
An apprenticeship programme at Level 2 or 3
A-levels
You will be able to access advice and guidance while studying at the College to learn more about the post-16 opportunities available for you.
Careers
Further study can lead to a variety of careers, including:
Coach/Instructor
Stud Supervisor
Work Rider
Welfare Officer
Clinical Assistant
For more information, email the 14-16 team at 14-16@derby-college.ac.uk
Who do you contact for more information?
For more information contact Derby College on 0800 0280289 or enquiries@derby-college.ac.uk
Course Information for Employers
Career Information
This course could lead to one of these careers...
Animal Care Services Occupations n.e.c.
£16267
More Careers Information at: https://www.derby-college.ac.uk/career-pathways
DCG Success Stories
Discover how our students have achieved success. Their hard work and dedication to learning has enabled them to succeed in rewarding careers or progress onto higher education. We encourage progress and aspirational outcomes by guiding people onto learning pathways that lead to positive destinations. Our students have gone on to achieve great things since leaving the College. We would like to share some of their inspiring success stories with you.
Course Information Last Updated On: October 18, 2021 1:45 pm